Análisis estructural de tres columnas de Bambú y sus aplicaciones sostenibles en Arquitectura
Structural analysis of three bamboo columns and their sustainable applications in Architecture
Palabras clave:
Columnas, bambú, diseño estructural, ensayo experimental
Resumen
RESUMEN Este presente trabajo tiene como objetivo la presentación de resultados del análisis estructural experimental y numérico de tres diferentes columnas —denominadas híbrida, compuesta y haz— utilizando barras de bambú de la especie Phyllostachys pubescens. Se utilizaron, además de las barras de bambú, cables de acero, tornillos y cintas metálicas, de acuerdo con la configuración formal. Se permitió el perfeccionamiento de los procesos innovadores de construcción, con resultados y uso del Diagrama de Southwell, para conocimiento de la Carga de Euler. Se concluyó que el uso sostenible de estas columnas favorece la Biodiversidad, interactuando áreas del Diseño y de la Ingeniería.
Citas
Chages, A., (1974) Principles of Structural Stability Theory. Department of Civil Engineering, University of Massachusetts; Engleewood Cliffs, New Jersey, USA: Prentice-Hall, Inc.

Moreira, L. E., (1998). Aspectos singulares das treliças de bambu: flambagem e conexões. Tese de Doutorado. Rio de Janeiro: PUC-RJ, Departamento de Engenharia Civil.

Moreira, L. E., Silva, F. J., Rodrigues, F.C., (2011). Design and Mechanical Tests of Bamboo Masts. Anais do 13º International Conference on Non-Conventional Materials and Technologies (NOCMAT). Key Engineering Materials, V.517, p.238-244, Doi: http://dx.doi.org/10.4028/www.scientific.net/KEM.517.238

Moreira, L. E., Ghavami, K., (2011). The influence of initial imperfections on the buckling of bamboo columns. Guayaquil. Ecuador: Proceedings of the International Workshop on the role of Bamboo in Disaster avoidance.

Rodrigues, F., C. (2009) C. Procedimentos de registro da disciplina e ensaios de Análise Experimental de Tensões. Belo Horizonte, MG: Programa de Pós Graduação em Engenharia de Estruturas da EE-UFMG.

Silva, F. J.; Rodrigues, F. C.; Moreira, L. E., (2014). Buckling of Masts of Bamboos Bundles. Key Engineering Materials. v.634, p.379 - 388, Doi: http://dx.doi.org/10.4028/www.scientific.net/kem.634.379

Silva, F. J.; Rezende, M.A.P.; Santos, W.J.; Carrasco, E.; Mantilla, J.N.R.; Piancastelli, E. M.; Magalhães, A.G., (2017). Sustainable Architecture with Bamboo Columns Technology. Applied Mechanics and Materials. v.864, p.318 - 323. Doi: http://dx.doi.org/10.4028/www.scientific.net/amm.864.31

Tung, S., (2010). Study of Mechanical Properties of Bamboo. Master Dissertation, Tokyo: University of Tokyo.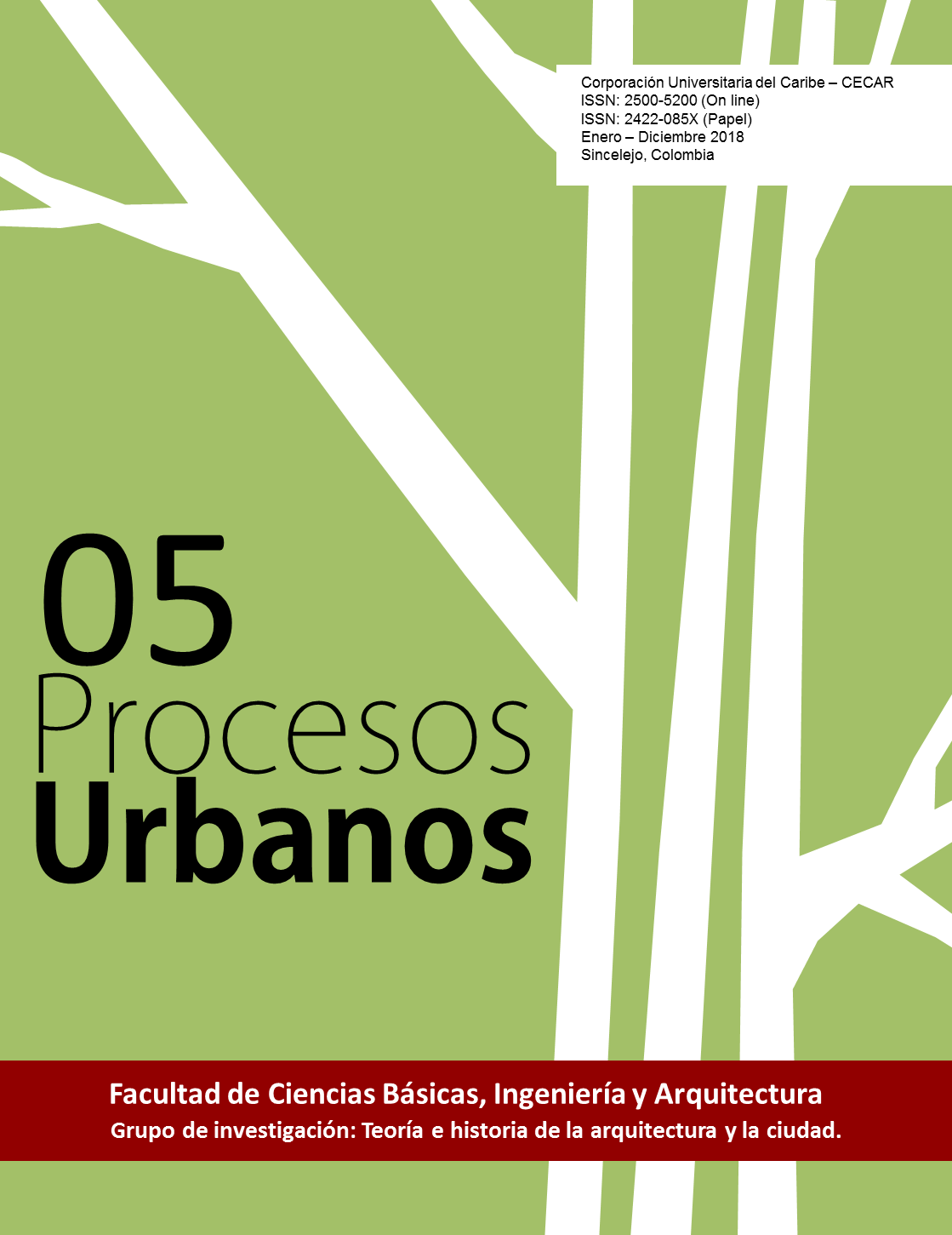 Cómo citar
da Silva, F. (2018). Análisis estructural de tres columnas de Bambú y sus aplicaciones sostenibles en Arquitectura. Procesos Urbanos, (5), 79-90. https://doi.org/10.21892/2422085X.413
Derechos de autor 2018 Procesos Urbanos
Esta obra está bajo licencia internacional
Creative Commons Reconocimiento-NoComercial-CompartirIgual 4.0
.

Revista Procesos Urbanos está distribuido bajo una Licencia Creative Commons Atribución-CompartirIgual 4.0 Internacional.
Basada en una obra en http://revistas.cecar.edu.co/procesos-urbanos.