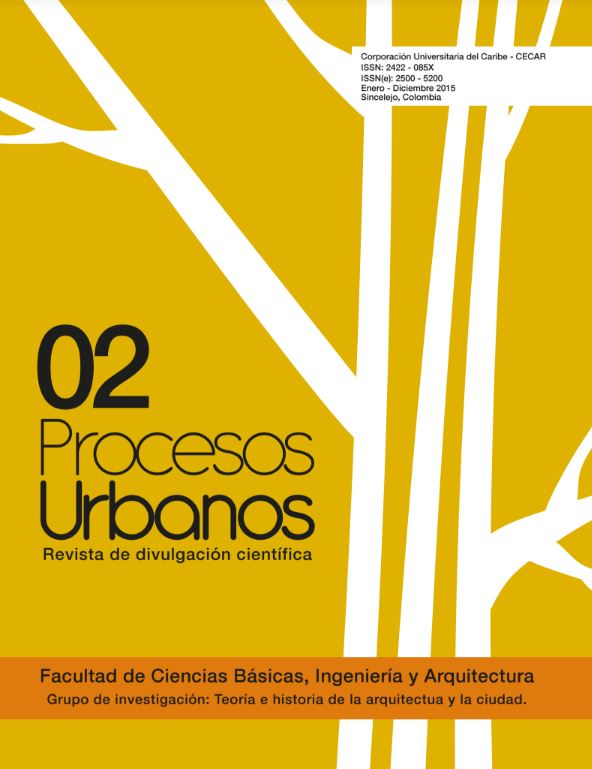 Ver / Descargar

PDF (Español (España))
How to Cite
Palmett Plata O. (2015). Evaluation of the eco-aesthetic attributes of medellin. Cityscape Study case: strategic ecosystems. Procesos Urbanos, 2(2), 128-144. https://doi.org/10.21892/2422085X.91
Abstract
Abstract: This research aims to investigate the relevant aspects of the ecological and aesthetic dimensions that define the attributes of the urban landscape of Medellin, to categorize, characterize and be able to evaluate them. Research Project carried out in the form of Project Classroom with students of the Architecture Program in the Landscape Elective Line in three levels. It aims to bring the student to the immediate context for the recognition, analysis, evaluation and assessment of landscape elements and inroads with this method in the action research through a research work in the classroom. All this with the aim to sensitize the student of architecture and provide him/her with the theoretical knowledge and practical tools to develop studies and reports in the field of landscape. The progress, outputs and outcomes of this research project carried out in the classroom, were exclusively used for the course evaluation and research dissemination.
___Keywords: ecological attributes, aesthetic attributes, cityscape, evaluation, strategic ecosystems.
___Resumen: Con esta investigación se pretende indagar sobre los aspectos relevantes de las dimensiones ecológica y estética que definen los atributos del paisaje urbano de Medellín, para categorizarlos, caracterizarlos y así poder evaluarlos. Proyecto de Investigación llevado a cabo en la modalidad de Proyecto de Aula con los estudiantes del Programa de Arquitectura* en la Optativa Línea de Paisaje** en sus tres Niveles. Se pretende acercar al estudiante al contexto inmediato para el reconocimiento, análisis, evaluación y valoración de los elementos del paisaje e incursione con esta modalidad en la investigación acción a través del trabajo investigativo en el aula. Todo esto con el objetivo de sensibilizar al estudiante de Arquitectura y proporcionarle los conocimientos teóricos y herramientas prácticas para el desarrollo de estudios e informes en el ámbito del paisaje. Los avances, producciones y resultados de este proyecto de investigación llevado a cabo en el aula, se utilizó exclusivamente para la evaluación del curso y la divulgación investigativa.
 ___Palabras clave: atributos ecológicos, atributos estéticos, paisaje urbano, evaluación, ecosistemas estratégicos.
___Recibido: 18 de agosto de 2015. Aceptado: 05 de noviembre de 2015.
Licence
Copyright (c)
References
Conveni Europeu del Paisatge. Oservatori del Paisatge. Centro de Documentación. Glosario: Paisaje. Consultado el mes de febrero de 2015 en la dirección web: http://www.catpaisatge.net/esp/glossari.php

Editorial Ariel, S.A. Colección Geografía. Barcelona – España. p. 65.

Escribano, M. et al. (1987). El Paisaje. Unidades Temáticas Ambientales de la Dirección General del Medio Ambiente. MOPU, Madrid. 107 pp. 1987

McHarg, I. (2000). Proyectar con la naturaleza. Editorial Gustavo Gili. Barcelona-España. 197 p.


Observatorio del Paisaje de Catalunya / Hospici, 2015. 8 - 17800 OLOT - Tel: +34 972 27 35 64 - Fax: +34 972 27 15 89

Rae. Real Academia Española de la Lengua. (2014). Diccionario. Valor. consultado en la dirección web: www.rae.es Santos, M. (2000). La naturaleza del espacio. Técnica y tiempo. Razón y emoción.

Seoánez Calvo, Mariano. (1998). Ingeniería medioambiental aplicada a la reconversión industrial y a la restauración de paisajes industriales degradados: casos prácticos Mundi Prensa Libros S.A. ISBN 84-7114- 749-1

USDI Bureau of Land Management, (1980). Visual Resource Management. Division of Recreation and Cultural Resources, Washington, DC Yeomans, W.C., (1986). Visual Impact Assessment: Changes in natural and rural environment. Foundations for Visual project analysis.