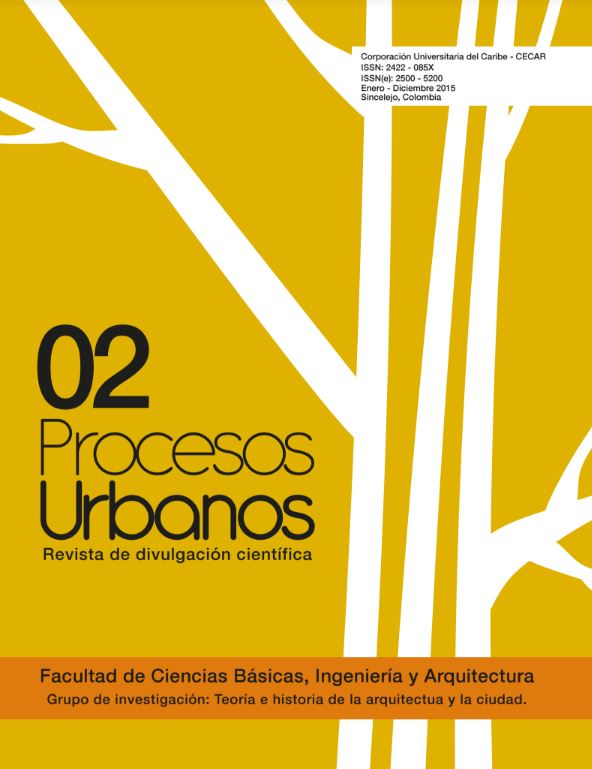 Ver / Descargar

PDF (Español (España))
How to Cite
Guerrero Torrenegra A. (2015). Regional history of Maracaibo: morphological evolution of central town. Procesos Urbanos, 2(2), 26-40. https://doi.org/10.21892/2422085X.81
Abstract
Abstract: This article discusses the impact of regional history, characterized by the 1830-1860 agricultural export circuit as the engine of urban dynamics. Replaced in 1926 by the oil, it begins to generate a large urban renewal of the central hull. The main objective is to define the morphological evolution of the central hull during the local historical process. The research strategy is descriptive and analytical, with a phenomenological approach combines urban planning theory and practice. The result creates another way to apply the hermeneutics of the dynamics that influenced the urban morphology, and generated new ideas for improving the planning of the city of Maracaibo.
___Keywords: regional history, urban morphology, urban dynamics, urban squares.
___Resumen: Este artículo aborda el impacto de la historia regional, caracterizada por el circuito agroexportador de 1830-1860 como el motor de las dinámicas urbanas, siendo sustituida en 1926 por el petróleo, comienza a generar una gran renovación urbana del casco central. El objetivo principal es definir la evolución morfológica del caso central durante el proceso histórico local. La estrategia investigativa es descriptiva y analítica, de enfoque fenomenológico y combina teoría y práctica urbanísticas. El resultado origina otra manera de aplicar la hermenéutica de las dinámicas que influyeron en la morfología urbana, generando nuevas ideas para el mejoramiento de la planificación de la ciudad de Maracaibo.
___Palabras clave: historia regional, morfología urbana, dinámicas urbanas, cuadrículas urbanas.
___Recibido: 30 de marzo de 2015. Aceptado: 01 de julio de 2015.
Licence
Copyright (c)
References
Conveni Europeu del Paisatge. Oservatori del Paisatge. Centro de Documentación. Glosario: Paisaje. Consultado el mes de febrero de 2015 en la dirección web: http://www.catpaisatge.net/esp/glossari.php

Editorial Ariel, S.A. Colección Geografía. Barcelona – España. p. 65.

Escribano, M. et al. (1987). El Paisaje. Unidades Temáticas Ambientales de la
Dirección General del Medio Ambiente. MOPU, Madrid. 107 pp. 1987

McHarg, I. (2000). Proyectar con la naturaleza. Editorial Gustavo Gili. Barcelona-España. 197 p.

Observatorio del Paisaje de Catalunya / Hospici, 2015. 8 - 17800 OLOT - Tel: +34 972 27 35 64 - Fax: +34 972 27 15 89 - observatori@catpaisatge.net

Rae. Real Academia Española de la Lengua. (2014). Diccionario. Valor. consultado en la dirección web: www.rae.es

Santos, M. (2000). La naturaleza del espacio. Técnica y tiempo. Razón y emoción.

Seoánez Calvo, Mariano. (1998). Ingeniería medioambiental aplicada a la reconversión industrial y a la restauración de paisajes industriales degradados: casos prácticos Mundi Prensa Libros S.A. ISBN 84-7114-749-1

USDI Bureau of Land Management, (1980). Visual Resource Management. Division of Recreation and Cultural Resources, Washington, DC


Yeomans, W.C., (1986). Visual Impact Assessment: Changes in natural and rural environment. Foundations for Visual project analysis.