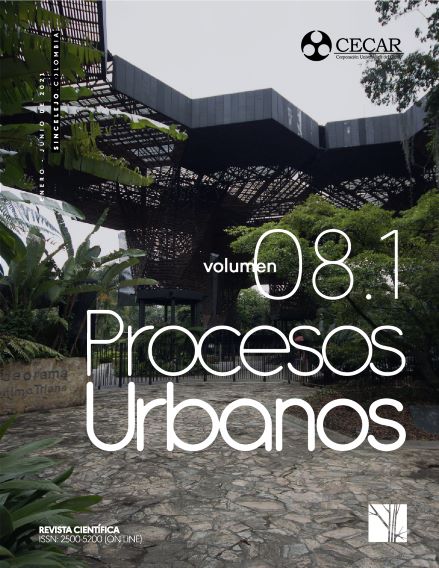 How to Cite
Sonda de la Rosa R., Estolano Cristerna D., & Guerra Mondragón S. (2021). The Beach as a Tourist Commercial Use in Mexico. Comparative Study Mazatlán-Acapulco. Procesos Urbanos, 8(1). https://doi.org/10.21892/2422085X.517
Abstract
According to Richard Butler's theory on the life cycle of tourist destinations, the objective of the research is to make an inventory and compare the tourist businesses between two Mexican destinations. A mixed approach is applied through a case study methodological strategy, addressing qualitative aspects with phenomenological research. Commercial activities, that satisfy the requirements and expectations of tourists on the selected tourist beaches, were recorded, classified and compared. In the results section, the similarities and differences in the tourist businesses carried out are outlined, which will serve as input for future decision-making in matters of innovation and industrial strengthening of the products and services, offered and demanded.
Keywords:
Licence
Copyright (c)
References
Ayuntamiento de Mazatlán (2020). H. Ayuntamiento de Mazatlán. http://sinaloaennumeros.com/tur/

Bejarano, R. (1997). Vegetación y paisaje, Madrid, España: Universidad de Sevilla.

Bryman, A. (2005). Research methods and organization Studies, London, United Kingdom Kindom: Unwin Hyman.

Butler, R. (1980): "The concept of tourist area cycles of evolution: implications for management of resources." Canadian Geographer.

Clark, J. (1996). Coastal Zone Management Handbook. USA: CRC Press.

Creswell, J. (2012). Inquiry and research design choosing among five traditions. USA: SAGE Publications. International Educational and Professional Publisher.

Christaller, W. (1964). Some considerations of tourism location in Europe: The Peripheral Regions –Underdeveloped Countries- Recreation areas. Papers in Regional Science, 12 (1). 95- 105

Díaz, M. (2003). Negocios Internacionales. España: Ediciones Pirámide.

De la Torre, O. (2003). El turismo fenómeno social. México: Fondo de Cultura Económica.

Dean, J. (1950). Pricing policies for new products. Harvard business review, 28 (6), 45-54.

Díaz, M. (2014). Negocios Internacionales. España: Ediciones pirámide.

Gilbert, E. (1939). The Growth of the Island and Seaside Health Resort in England. Scottish Geographical Magazine, 55, 16-35.

Google.(s.f.). Google Maps. https://www.google.com.mx/maps/place/Mazatl%C3%A1n,+Sin./@23.238983,-106.4387639,13z/data=!4m5!3m4!1s0x869f5341681837c 1:0x62a4c4aaf13c72b2!8m2!3d23.2494148!4d-106.4111425

Google. (s.f.). Google Maps. https://www.google.com/maps/@16.846179,-99.8806089,14z

Gundermann, H. (2010). El método de los estudios de caso. México: Porrúa.

INEGI. (2020). Instituto Nacional de Estadística y Geografía. http://www.inegi.org.mx/0

Instituto Turístico de Valencia. (1995). Bases para la ordenación de los espacios turísticos de la comunidad Valenciana. Ed. Institut Turistic Valencia, Valencia.

Marlowe, H. (1999). Assessing the economic benefits of America's coastal regions. Industry- Driven Changes and Policy Respond, USA: SAGE

Miossec, J. (1977). Un modelé de l'espace Touristique. L´espace Géographique, 6 (1) 41-48

Noronha, R. (1976). Review of the sociological literature on Tourism. New York: World Bank.

Rondón, J. (2010). Análisis de los diferentes componentes del ecosistema de playa en Riohacha, Colombia. Recuperado 1 agosto 2014 de: http://www.academia.edu/4985767/INFORME_PLAYA

SECTUR. (2019). Portal del Sistema Nacional de Información Estadística y Geográfica de Turismo. (SECTUR, Ed.): http://www.datatur.sectur.gob.mx/SitePages/ActividadHotelera.aspx

SECTUR (2020) Portal del Sistema Nacional de Información Estadística y Geográfica de Turismo. (SECTUR, Ed.) https://www.gob.mx/sectur/prensa/el-ingreso-de-divisas-turisticas-alcanzo-los-15-mil-666-millones-de-dolares-en-el-periodo-enero-agosto

Sonda, R., Escalona, C., & Morales, R. (2014). La Playa como uso de Negocios Turísticos en Cancún. México: Universidad del Caribe.

Silverman, D. (2011). Interpreting qualitative data. Londres: Sage Publications.

Szilasi, W. (2010). Introducción a la fenomenología de Hussherl. España: Amorrortu Editores.

Vistimexico. (2020). Consejo de promoción turística de México. Acapulco. https://www.visitmexico.com/es/destinos-principales/guerrero/acapulco

Verbiclara. (2019). Origen de la palabra negocio. https://verbiclara.wordpress.com/2016/03/05/origen-de-la-palabra-negocio/

Yepes, V. (1999). Las playas en la gestión sostenible del litoral. España Universidad de Murcia.