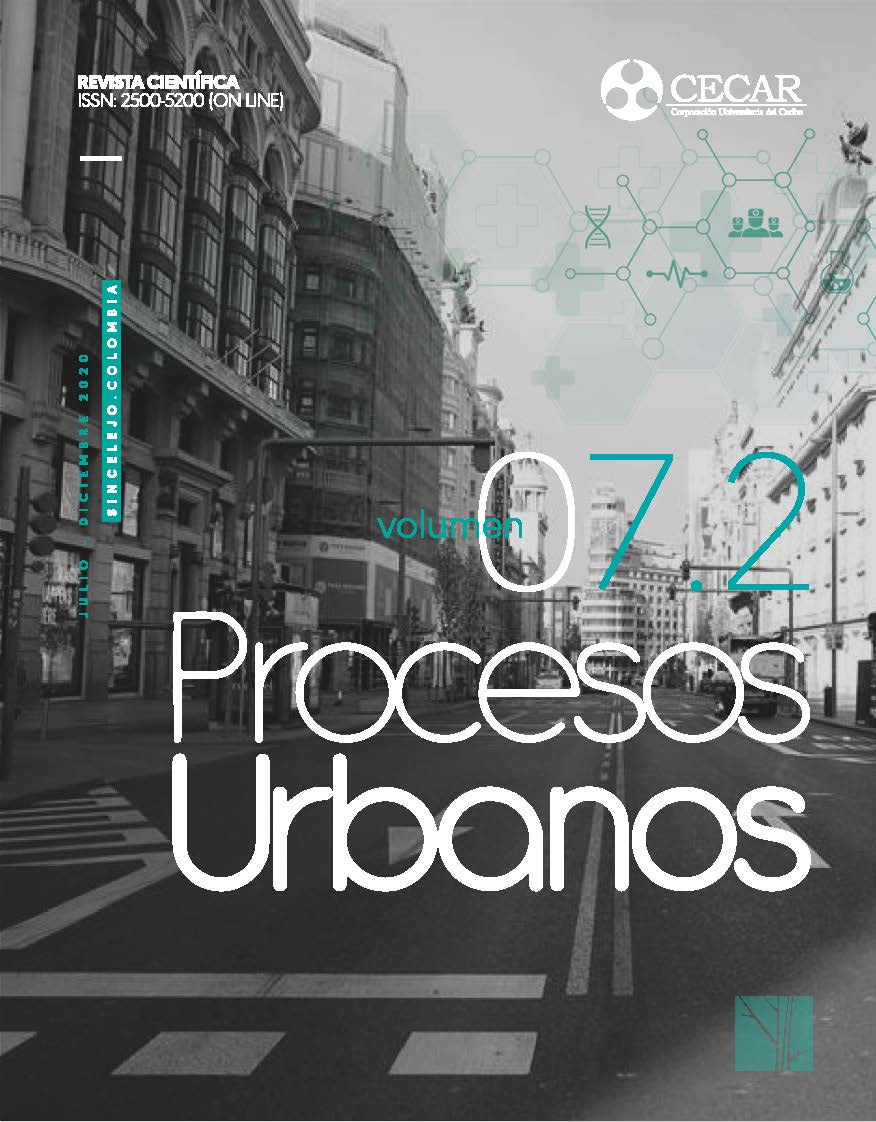 How to Cite
Morales-Guzmán C. C. (2020). Design of experimental folding roofs under wind and earthquake load factors. Procesos Urbanos, 7(2), e502. https://doi.org/10.21892/2422085X.502
Abstract
The following research was developed on folding roofs, where the issue of load factors in said roofs was addressed, since this type of structures is not fully regulated, so experimental load combinations are contemplated for the design of non—passable roofs, which are established in the Federal District Construction Regulations (RCDF—2014), and the CFE wind design manual (MDVCFE—2015). Combinatorial loads are reviewed with a software called WinTess, which performs structural simulations considering a structural membrane as a stiffener. The result will be the dimensioning of the structure.
Licence
Copyright (c) 2020 ©2020 Los Autor(es). Publicado por CECAR Revista Procesos Urbanos está distribuido bajo una Licencia Creative Commons Atribución-CompartirIgual 4.0 Internacional.
This work is licensed under a Creative Commons Attribution-NonCommercial-ShareAlike 4.0 International License.
References
Berger, h. (1996)." Light Structures, Structures of Light, the Art of Tensile Architecture." 1a Edition. Suiza: Basel.

Broto, c. (2006). Cubiertas, Innovación y Diseño. 1ª, ed.: Editorial Links.

Candela, F., Piñero, e.p., Calatrava, s., Escrig, f. y Valcarcel, j.p. (1993), arquitectura transformable, Publicación de la escuela técnica superior de Architectura de Sevilla, Sevilla.

Chilton, I.C., Choo, B.S. y Wilkinson, D. (1998), Un Análisis Paramétrico de la Geometría de Estructuras de Bastidor Reciprocas Retractiles. En los Procedimientos de la Conferencia lsa98 "Estructuras Livianas en Ingeniería de la Arquitectura y Construcción", vol.1, 547—555, Sydney, Australia.

Chilton, j. (2000)."Space Grid Structures", 1a ed, Editorial Architectural Press, Oxford, Boston, Usa.

Chudley, r. (2001). Manual de Construcción de Edificios. (3a ed.), Barcelona: Gustavo Gili, S.a. de C.V.

Escrig, F. (1988), Estructuras espaciales desplegables curvas, Revista Informes de la Construcción, Vol. 39, ISSN:1998—3234, Editorial Consejo Superior de Investigaciones Científicas.

Escrig, F. (2012). Modular, ligero, transformable: un paseo por la arquitectura ligera móvil. Ed, Editorial, Universidad de Sevilla. Sevilla: Universidad de Sevilla.

Grupo Estran. Estructuras Transformables Disponible en http://www.grupoestran.com. Consultado 2012—2014

IMCA (Instituto Mexicano de la Construcción de Acero) (2010), Manual de Construcción en Acero, "Diseño por Esfuerzo Permisibles". 6 edición, Editorial Limusa Noriega.

Llorens Duran, J.I. (2018). VIII Simposio Latinoamericano de Tenso—estructuras., Lima, Peru, 2018. Reglamentación Europea sobre Estructuras de Membranas.

Manual de diseño de WinTess3. Fuente: http://tecno.upc.edu/wintess/manual

Manual de diseño Estructural de CFE (Comisión Federal de Electricidad). http://cgservicios.df.gob.mx/prontuario/vigente/385.htm.

McCormac, (2000). Diseño de Estructuras de Acero, Método LRFD, 2 edición, Editorial Alfaomega

Morales, C. C (2013a). Diseño de Cubiertas Plegables Tensadas en la Arquitectura. Tesis de Máster de Ingeniería para la Arquitectura, Área: Estructuras, Universidad Camilo José Cela, Madrid, España.

Morales, C. C (2013b) Prototipo de Diseño de una Cubierta Retráctil Tensada. Revista de Arquitectura, Vol. 15, ISSN: 2357—626X Editorial Universidad Católica de Colombia, Colombia.

Morales, C. C (2014) Proceso de diseño de sistemas transformables En las cubiertas ligeras. Revista Modulo Arquitectura, Vol. 14, ISSN: 2389—7732. Editorial Universidad de la Costa, Colombia.

Morales, C. C (2016a) Construcción Experimental de un sistema Transformable Tensado Plegable. Revista de Arquitectura, Vol. 18, ISSN: 2357—626X Editorial Universidad Católica de Colombia, Colombia.

Morales, C. C (2016b) Development and experimental construction of a transformable roof (first phase). Magazine Asian Academic Research Journal of Multidisciplinary, Vol. 3, ISSN: 2319 – 2801. Editorial Asian Academic Research Associates de C.V.

Morales, C. C (2017) Desarrollo de la forma de una tenso estructura en el diseño por computadora. Revista Procesos Urbanos, Vol. 4, ISSN: 2500 – 5200. Editorial Corporación Universitaria del Caribe.

Morales, C. C (2018a) Diseño y desarrollo de patrones de la forma de una tenso—estructura. Revista de Arquitectura. Vol. 21, ISSN: 2357—626X Editorial Universidad Católica de Colombia, Colombia.

Morales, C. C (2018b) Diseño de una cubierta hiperbólica plegable tensada. Revista Procesos Urbanos, Vol. 5, ISSN: 2500 – 5200. Editorial Corporación Universitaria del Caribe.

Morales, C. C (2019a) Diseño y construcción de un paraguas plegable para espacios arquitectónicos. Revista de Arquitectura. Vol. 22, ISSN: 2357—626X Editorial Universidad Católica de Colombia, Colombia.

Morales, C. C, Mercado E. J (2019b) Proceso de diseño de una cubierta con el principio de tensegridad para espacios de esparcimiento. Revista Procesos Urbanos, Vol. 6, ISSN: 2500 – 5200. Editorial Corporación Universitaria del Caribe.

Morales, C. C. (2012). Diseño de Cubiertas Ligeras Tensadas. Estancia Post Doctoral, Universidad Politécnica de Catalunya.

Morales, C.C (2017). Experiencias y casos de estudio: construcción de una cubierta hiperbólica tensada para espacios tropicales. En Pesantez, G. y Flores, W. (comps.). Arquitectura: experiencias y propuestas para la ciudad (pp. 177—192). Guayaquil: Centro de Investigaciones y Desarrollo de Ecuador.

Normas Complementarias de Construcción de Distrito Federal. Fuente: https://www.isc.cdmx.gob.mx/dependencia/marco—normativo Consultado 2009—2018

Segui W. (2000). Diseño de Estructuras de Acero con LRFD. 2a Ed. México: Editorial Thomson Editores, S.A