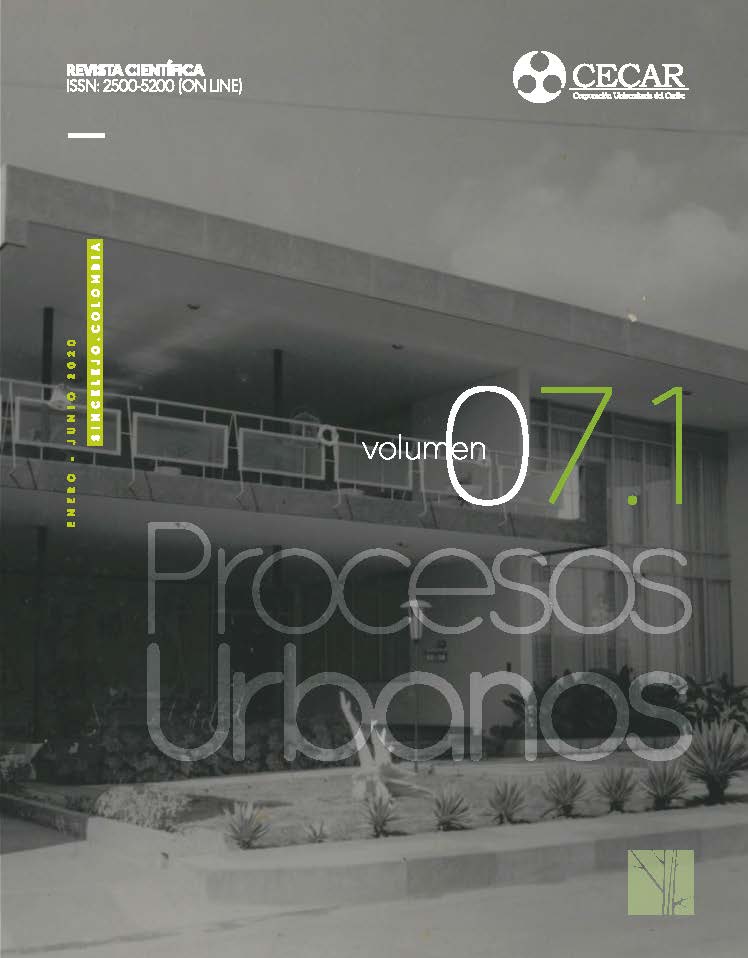 How to Cite
Mendoza-Jaramillo A. (2020). Megacities: context, climate change and the challenge of urban sustainability. Procesos Urbanos, 7(1), e480. https://doi.org/10.21892/2422085X.480
Abstract
This article offers a brief theoretical review of three academic and political positions to intervene in cities, in light of the needs and challenges posed by Climate Change and Urban Sustainability: Urban Containment, Creation of Spaces and Urban Acupuncture. In this way, it is interesting to know the scope, limitations, convergences and divergences of such positions, to generate debate against the current needs that the planning of Megacities shows. The article ends with some reflections on the challenges of Climate Change and Urban Sustainability.
Licence
Copyright (c) 2020 Procesos Urbanos
This work is licensed under a Creative Commons Attribution-NonCommercial-ShareAlike 4.0 International License.
References
Abba, A. (2010). Metrópolis Argentinas. Agenda política, institucionalidad y gestión de las aglomeraciones urbanas interjurisdiccionales. Buenos Aires: Editorial Café de las Ciudades.

Angel, S. (2015). Planeta de ciudades. Bogotá, Colombia: Universidad del Rosario-Lincoln Institute of Land Police.

Ainstein, L. (2012). Una aproximación sistémica a los procesos de difusión urbana: manifestaciones de la difusión, factores subyacentes, consecuencias emergentes y políticas públicas requeridas, en Ainstein, L (coordinador) "Estructura urbana, institucionalidad y sustentabilidad de ciudades metropolitanas y regiones difusas. Miradas comparadas sobre Buenos Aires, Londres, Los Ángeles, París, Tokio, y Toronto". Buenos Aires: Eudeba.

Banco Interamericano para el Desarrollo – Instituto Interamericano para el Desarrollo Económico y Social (INDES). (2014). Liderando el desarrollo sostenible de las ciudades. Unidad Temática: Cambio Climático. Disponible en: https://es.slideshare.net/gracielamariani/liderando-el-desarrollo-sostenible-de-las-ciudades-unidad-temtica-cambio-climtico

Barahona, L. (2008). XS Urbano. Repensar la ciudad desde los Sistemas de Acupunturas Urbanas. Fundación de la Universidad Politécnica de Cataluña UPC.

Borsdorf, A. (2003). Cómo modelar el desarrollo y la dinámica de la ciudad latinoamericana, en EURE, 29 (086) Santiago de Chile: Pontificia Universidad Católica de Chile.

Buzai, G. (2006). Modelos urbanos. Focalización en el análisis de la estructura espacial de las ciudades de América Latina, en AAVV (2006) Crecimiento urbano y sus consecuencias sobre el entorno rural. El caso de la eco región pampeana. Buenos Aires: Orientación Gráfica Editora.

Diario El País (2008). Entrevista a Jorge Olcina. "Este nuevo siglo será el de las Megaciudadades". Disponible en: http://elpais.com/diario/2008/03/16/eps/1205652412_850215.html

Diario El País. (2016). El 80% de las Megaciudades del mundo está en el hemisferio sur. Disponible en: http://blogs.elpais.com/seresurbanos/2016/06/Megaciudadeshemisferiosur.html

Diario El Tiempo (2019). Los escenarios que hay en el parque Tercer Milenio tras renovación. Disponible en: https://www.eltiempo.com/bogota/parque-tercer-milenio-renovacion-2019-426344

Hansjürgens, B. y Heinrichs, D. (2014). Megacities and Climate Change: Early Adapters, Mainstream Adapters and Capacities, en Kraas, F., Aggarwal, S, Coy, M. y Mertins, G (editores) (2014). Mega cities, our global urban future. Springer.

Janoschka, M. (2002). El nuevo modelo de la ciudad latinoamericana: fragmentación y privatización, en EURE, 28 (085), 5-20. Santiago de Chile: Pontificia Universidad Católica de Chile.

Jaramillo, S. (1993). Urbanización Latinoamericana. Nuevas perspectivas. Bogotá D.C.: Ed. Escala.

Jaramillo, S. (2009). El papel del mercado del suelo en la configuración de algunos rasgos socio-espaciales de las ciudades latinoamericanas, en Revista Territorios, Vol. 2 (01), 107-129. Bogotá D.C.: Universidad del Rosario.

Jayan, T. V. (2009). Megacities. Nueva Delhi, India: Vigyan Prasar.

Khanna, P. (2016). How megacities are changing the map of the world. Conferencia TED. Disponible en: https://www.ted.com/talks/parag_khanna_how_megacities_are_changing_the_map_of_the_world

Lerner, J. (2003). Acupuntura Urbana, Río de Janeiro-Sao Paulo, Brasil: Editora Record.

Lorrain, D. (2011). Governing megacities in emerging countries. París, Francia: Ashgate. 2011.

Mendoza, A. (2014). Gestión urbanística e institucionalidad en metrópolis de América del Sur. Munich, Alemania: Grin Verlag.

Mendoza, A. (2015). Gestión urbanística de las urbanizaciones cerradas en Colombia: el caso de Chía. Procesos Urbanos, 2(2), 58-72. https://doi.org/10.21892/2422085X.84

Organización de Naciones Unidas-Departamento de Asuntos Económicos y Sociales. (1992). Declaración de Rio sobre el Medio Ambiente y el Desarrollo. Disponible en: http://www.un.org/spanish/esa/sustdev/agenda21/riodeclaration.htm

Organización de Naciones Unidas-HABITAT. (2016). World Cities Report: Urbanization and Development. Emerging Futures. Nairobi: Kenia.

Pírez, P. (2010). La problemática de la gestión, en Atlas Ambiental de Buenos Aires.

Sáenz, H. (2006). El funcionamiento del mercado de arrendamientos en barrios populares de Bogotá. Bogotá D.C.: Lincoln Institute of Land Policy-MIMEO. 2006.

Sorensen, A. y Okata, J. (editores). (2011). Megacities: Urban form, Governance and Sustainability. Tokyo, Japón: Springer.

Sustentabilidad Responsable. (2016). Megaciudades: el gran desafío de la Sostenibilidad. Disponible en: https://sustentabilidadresponsable.wordpress.com/2016/05/28/Megaciudades-el-gran-desafio-de-la-Sostenibilidad/

Tarchópulos, D. (2006). Reseña del libro "Acupuntura Urbana", Investigaciones Geográficas, Boletín 61.

UNFPA. (2007). Estado de la población mundial 2007. Liberar el potencial del crecimiento urbano. Disponible en: https://www.unfpa.org/sites/default/files/pub-pdf/swp2007_spa.pdf