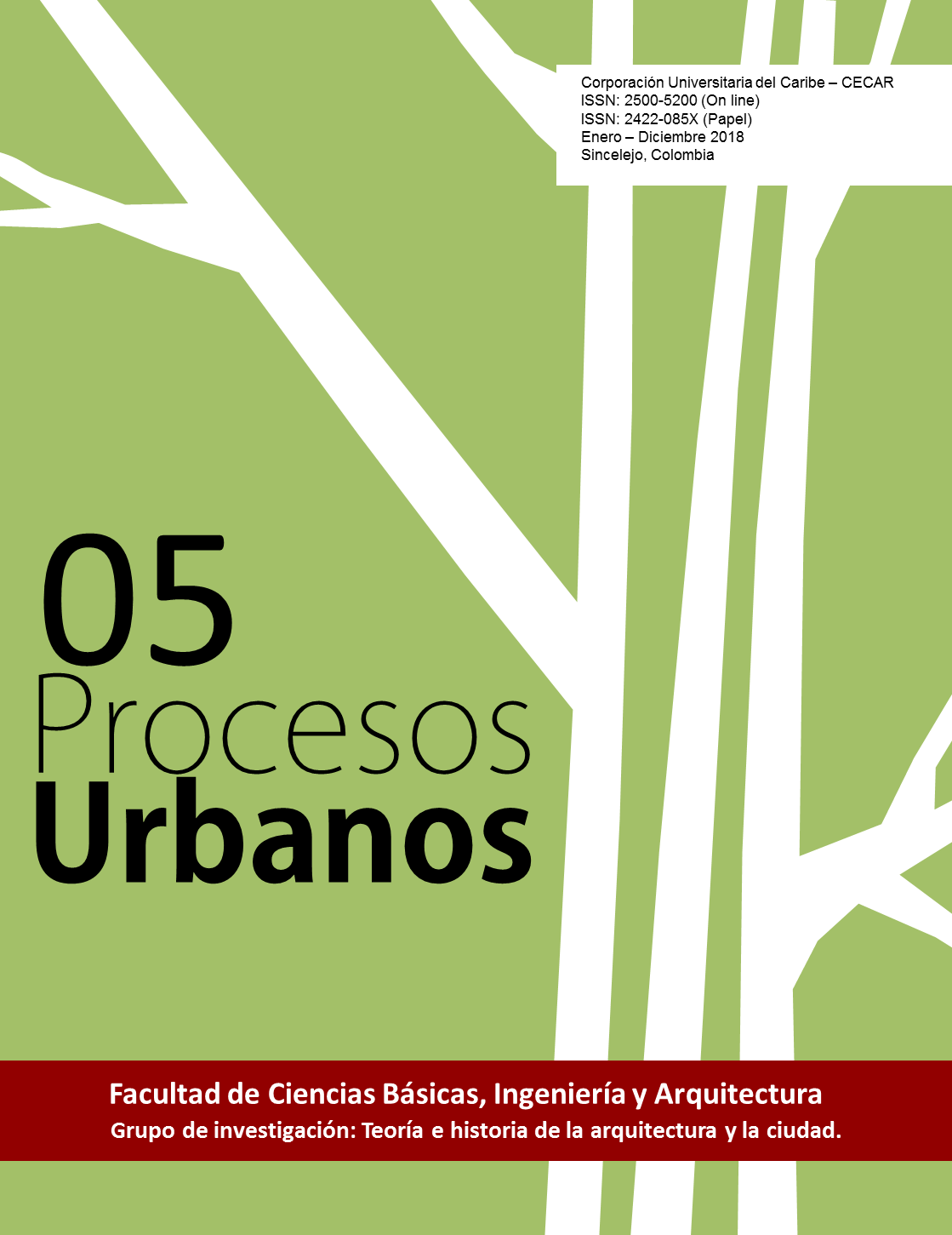 How to Cite
Hernández Porras R. E. (2018). Urban Segregation in the City of Sincelejo-Colombia: case of the San Miguel Neighborhood. Procesos Urbanos, 5(5), 58-66. https://doi.org/10.21892/2422085X.410
Abstract
ABSTRACT
The present investigation deals with the phenomenon of urban segregation present in the city of Sincelejo-Colombia, particularly in the San Miguel neighborhood. For this purpose, demographic and social data have been studied, showing the origin and situation of the peripheral neighborhood of the city. These data have been contrasted with a qualitative description of the state of the facilities and urban infrastructures present. Subsequently, a bibliographical review is made that addresses the issue of segregation. With this, it is intended to show that there is a phenomenon of segregation and social inequality palpable in San Miguel.
Licence
Copyright (c) 2018 Procesos Urbanos
This work is licensed under a Creative Commons Attribution-NonCommercial-ShareAlike 4.0 International License.
References
Capron, G y González, S. (2006). Las escalas de la segregación y de la fragmentación urbana. Travaux et Recherches dans les Amériques du Centre. Centro de Estudios Mexicanos y Centroamericanos Distrito Federal. Mexico. Retrieved from: http://www.redalyc.org/articulo.oa?id=423839505006

Cohen, E; Contreras, W; Díaz, J; Martínez, F; Quiroz, S. (2005). San Miguel, aldea Urbana Ecosostenible. Corporación Universitaria del Caribe CECAR. Sincelejo. Colombia.

Correa, J y Lozano, R. (2013). Si usted gana $2.000.000 es rico para el banco mundial. Editorial el tiempo. Bogotá DC. Retrieved from: http://www.eltiempo.com/archivo/documento/CMS-12779552

Comisión asesora permanente para el régimen de construcciones sismo resistentes. (2010). Reglamento Colombiano para construcción sismo resistente NSR-10. Ministerio de ambiente, vivienda y desarrollo territorial. Colombia

Departamento nacional de Estadística. (2015). Anexo pobreza monetaria y multidimensional. Presidencia de la republica de Colombia.
Retrieved from: https://www.dane.gov.co/index.php/estadisticas-por-tema/pobreza-y-condiciones-de-vida/pobreza-y-desigualdad/pobreza-monetaria-y-multidimensional-en-colombia-2015

Espino, A. (2008). La segregación urbana: Una breve revisión teórica para urbanistas. Revista de Arquitectura, Universidad Católica de Colombia. Bogotá DC. Retrieved from: http://www.redalyc.org/pdf/1251/125112541006.pdf

Healy, P. (2003). "Institutionalist theory, social exclusión and governance". Social Exclusion in European Cities: Processs, Experiences, and Responses, edited by Ali Madanipour, Göran Cars, and Judith Allen. London: Routledge. p.53. En Espino, A. (2008). La segregación urbana: Una breve revisión teórica para urbanistas. Revista de Arquitectura, Universidad Católica de Colombia. Bogotá DC. Retrieved from: http://www.redalyc.org/pdf/1251/125112541006.pdf

Goycoolea, R. (2006). Violencia y espacio urbano. Quórum. Revista de pensamiento iberoamericano, núm. 16. Universidad de Alcalá. España. Retrieved from: http://www.redalyc.org/pdf/520/52001602.pdf

Gutiérrez, R. (2014). Segregación urbana en Bogotá. Crítica al ordenamiento y control urbanístico en materia de construcción. Cuadernos de vivienda y urbanismo. Universidad Javeriana. Bogotá. Colombia. Retrieved from: http://revistas.javeriana.edu.co/index.php/cvyu/article/view/8750

Naciones Unidas. (2014). Más de la mitad de la población vive en áreas urbanas y seguirá creciendo. Departamento de asuntos económicos y sociales. Retrieved from: http://www.un.org/es/development/desa/news/population/world-urbanization-prospects-2014.htm

Organización de Derechos Humanos Colombia. (2005). Resultados del Censo general de Colombia DANE 2005. Retrieved from: http://www.ddhh-colombia.org/html/CENSOGENERALDEL2005.pdf

Pérez, E. (2011). Segregación socioespacial urbana. Debates contemporáneos e implicaciones para las ciudades Mexicanas. Estudios Demográficos y Urbanos. El Colegio de México, A.C. Distrito Federal, México. Retrieved from: http://www.redalyc.org/articulo.oa?id=31223581006

Quessep, J. (2015). Programa de gobierno, ´´Unidos por el progreso´´. Municipio de Sincelejo. Retrieved from: http://sincelejo-sucre.gov.co/apc-aa files/61383166366532633430663865366465/unidos-por-el-progreso-jacobo-quessep-espinosa.pdf

Sabatini, F. (2006). La segregación social del espacio en las ciudades de América Latina. Banco interamericano de Desarrollo. Departamento de Desarrollo Sostenible. División de Programas Sociales. Retrieved from: https://publications.iadb.org/handle/11319/5324

Sabatini, F y Cáceres, G. (2001). Segregación residencial en las principales ciudades chilenas: Tendencias de las tres últimas décadas y posibles cursos de acción; En Capron, G; González, S. (2006). Las escalas de la segregación y de la fragmentación Urbana Trace. Travaux et Recherches dans les Amériques du Centre.

Veiga, D y Rivoir, A. (2009). Fragmentación socioeconómica y segregación urbana en Montevideo. Revista de Ciencias Sociales. Departamento de Sociologia. Retrieved from: http://uah.summon.serialssolutions.com/2.0.0/link/0/eLvHCXMwnV3NSsQwEB4WQRBEFBV_IS_Q3f5s7BZWZNUtgq4nQfBSpkla66GRdvfgc-0j7Is50x8Qj3tNSIZJyMw3yXwTgMAfus4_mxBpSQdJo0IvxEyRm5cTrbROszRQqcu84Zf34HUeLB6j2QD6T_uYO0EROr_sVoX9wqGpR3xZSSqNLBa0uHfK6iK3t2OCyX5ji8lhcWpf_PzRVOCMQkdKZp_sdpP95eTEh3DQAT8xa3fqCAamPoZ7wo15k76tis26FLxUlkPUzZpp_UplihMKRZcVIopdPYEpvH87eHJ6QQn3239iIQrOvdtvWaJqRNCsI37IPtDwOEU9pGT3MtlQ4bTZyCiMapQ3mh3opgiimnmemhCN9SZCgPPPwe5layLLcddwl77uMI3Elews6xW5pp8NH7-AgJ2oS4

Vilora, J.  (2001). Cuadernos de historia económica y empresarial; ganaderos y comerciantes en Sincelejo, 1880-1920. Banco de la República de Colombia. Retrieved from: http://www.banrep.gov.co/documentos/publicaciones/regional/cuadernos/8.pdf

Red de Bibliotecas virtuales de ciencias sociales de América Latina y el Caribe. http://biblioteca.clacso.edu.ar/gsdl/collect/clacso/index/assoc/D9393.dir/h.pdf

El Universal. (2010). Sincelejo, hogar de desplazados. Cartagena. Colombia. Retrieved from: http://www.eluniversal.com.co/sincelejo/local/sincelejo-hogar-de-desplazados