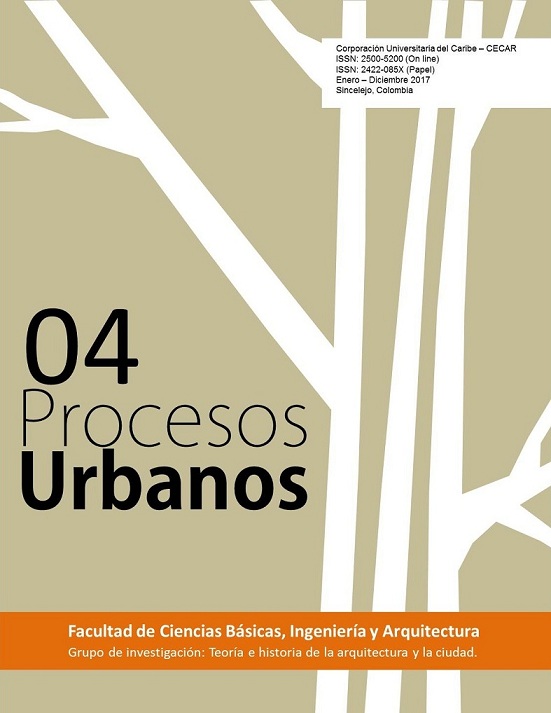 Ver / Descargar

PDF (Español (España))
How to Cite
Domínguez Machado J. (2017). Albornoz hill, citizen participation and bets on the integral development of the territory. Procesos Urbanos, 4(4), 174 - 188. https://doi.org/10.21892/2422085X.359
Abstract
Abstract: It describes the formation of social organizations in the Albornoz hill, located in the city of Cartagena de Indias, created with the aim of enhancing efforts for neighborhood improvement, quality of life, wellbeing and the desire to strengthen partnerships to materialize changes positive in the sector. Population accounts are analyzed and proposals are presented that are conducive to providing tools that facilitate and empower social organization for individual and social transformation. These changes are expected to translate into community strengthening in that sector and institutional confidence for the integral development of its territory.
 ___Keywords: social organizations, community empowerment, urban development.
___Resumen: Se describe la conformación de organizaciones sociales en el territorio del Cerro de Albornoz, localizado en la ciudad de Cartagena de Indias, creados con la finalidad de jalonar esfuerzos para la mejora barrial, calidad de vida, bienestar y el deseo de fortalecer asociaciones para materializar cambios positivos en el sector. Se analizan relatos de los pobladores y se presentan propuestas conducentes a propiciar herramientas que faciliten y empoderen la organización social para la transformación individual y social. Se espera que estos cambios se traduzcan en fortalecimiento comunitario en dicho sector y confianza institucional para el desarrollo integral de su territorio.
___Palabras clave: organizaciones sociales, empoderamiento comunitario, desarrollo urbano.
___Resumo: Descreve-se a formação de organizações sociais no morro de Albornoz, localizado na cidade de Cartagena de Indias, criado com o objetivo de aprimorar os esforços de melhoria de bairro, qualidade de vida, bem-estar e desejo de fortalecer parcerias para materializar mudanças positivo no setor. As contas da população são analisadas e são apresentadas propostas que são propícias ao fornecimento de ferramentas que facilitam e capacita a organização social para a transformação individual e social. Espera-se que essas mudanças se traduzam em fortalecimento da comunidade nesse setor e confiança institucional para o desenvolvimento integral de seu território.
 ___Palavras–chave: organizações sociais, capacitação da comunidade, desenvolvimento urbano.
___Recibido: 12 de mayo 2017. Aceptado: 20 de octubre de 2017.
Licence
Copyright (c)
References
Álvarez, R. D. (2010). Desalojan a Invasores del Cerro de Albornoz. Periódico El Universal Cartagena. Disponible en: http://www.eluniversal.com.co/cartagena/local/desalojan-invasores-de-cerros-de-albornoz

Borja, J. (2002). Ciudadanía y Globalización. Buenos Aires. Editorial PNUD. Revista 22-http://siare.clad.org/revistas/0041400.

Cepal (1997). Comunidades para un futuro sostenible. Temas relevantes de Gestion Urbana. . Santiago de Chile Junio de 20003.Disponible en: http://repositorio.cepal.org/bitstream/handle/11362/2376/S2003000_es.pdf;jsessionid=8E220C78BAB7B647A2CABB83669A924A?. Acceso en agosto 6/2017

Corona (2009). Fortalecimiento de Organizaciones, redes y Alianzas. Bogotá Colombia. Disponible en: www.pactodeproductividad.com acceso en: agosto 6 de 2017.

Corvivienda. (2016). Monografía Aspectos Generales Cerro de Albornoz. Cartagena de Indias. Inédito.

Domínguez, J.; Vélez, M. (2014). Gobernanza Ambiental en la Isla de Tierrabomba. Revista Economía y Región, VOL (NÚM) (PP- PP) Banco de la Republica.

Fals Borda O. (2003). Investigación Acción Participativa, Propuesta para ejercicio Comunitario de la Ciudadania. Madrid. Edit. Coectivo Ioe.

Funcicar. (2016) Como vamos Cartagena Percepción de la incidencia de la pobreza monetaria en Cartagena. Disponible en: http://www.cartagenacomovamos.org/ acceso en agosto 6 de 2017.

Londoño, B. (2008). Las Ong Ambientales y su ejercicio de las herramientas de participación institucionalizada. Gobernabilidad, Instituciones y Medio Ambiente. Bogotá Colombia: Edit Manuel Rodriguez Becerra.

Marchioni, M. (2002). Organización y Desarrollo de la Comunidad. La intervención comunitaria en las nuevas condiciones sociales. Fuerteventura. Madrid (España).

Plan de Ordenamiento Territorial (2001). Decreto 0977, Cartagena de Indias, Bolívar. (Colombia).

Piñeiro, D. (2004) Movimientos Sociales Departamento de Gobernanza Ambiental. Uruguay: Universidad de la República, Departamento de Sociología.

PNUD. (2017). Informe Proyecto Desarrollo Económico Incluyente. Bogotá. Disponible en: www.co.undp.org/.../colombia/.../proyecto-desarrollo-economico-incluyente- Acceso en agosto 6 de 2017

Salgado, L. (2010). Autogestión comunitaria en programas de desarrollo social. Comunidad diferente en Nuevo León y Baja California 2008 - 2010. Tijuana, México.

Sen, A. (1993) Capability and Well-being, en M. Nussbaum y A. Sen (eds.) The Quality of Life. Oxford, Clarendon Press. (Traducción de R. Reyes, en Nussbaum y Sen (eds.) La calidad de vida. Tercera reimpresión, México, Fondo de Cultura Económica, 2002).
Sen, A. (2004) Rationality and freedom. Cambridge. The Belknap Press of Harvard University Press. First Harvard University Press Paperback edition. Disponible en: https://books.google.es/books?hl=es&lr=&id=DaOY4DQ-MKAC&oi=fnd&pg=IA1&dq=Sen,+Amartya+(2004)&ots=CJD_3kdR7x&sig=IGluRwdK_ul2GJSxuANptK4Hcwk#v=onepage&q=Sen%2C%20Amartya%20(2004)&f=false acceso octubre 20 de 2017.

Taborda Herrera, E. (2011). "No hubo desalojo en el Cerro de Albornoz". Periódico el Universal. Abril 1. Cartagena de Indias. http://www.eluniversal.com.co/cartagena/local/no-hubo-desalojo-en-el-cerro-de-albornoz-17370