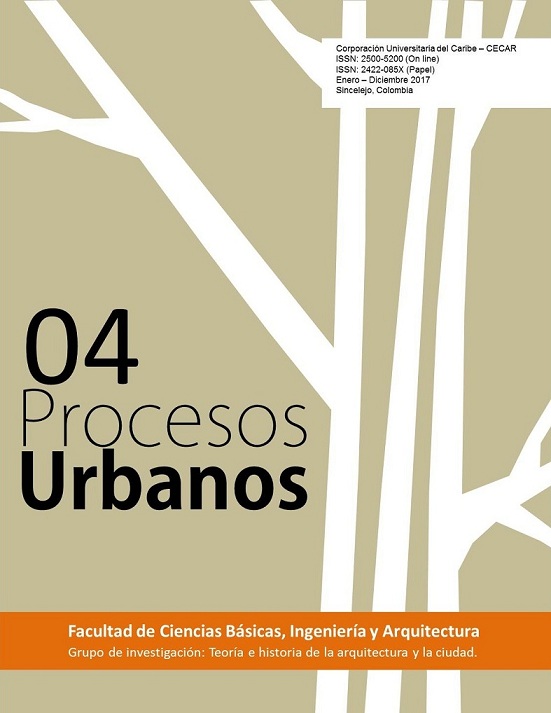 Ver / Descargar

PDF (Español (España))
How to Cite
Morales GuzmánC. C., Martínez CruzC., Rivera TorreH., & Flores GutiérrezA. (2017). Development of the form of a strong structure in computer design. Procesos Urbanos, 4(4), 136 - 148. https://doi.org/10.21892/2422085X.356
Abstract
Abstract: The origin of the research is developed in the methodology of geometrical translation of a minimum surface, the unknown, is to develop a design methodology that fits a virtual program and this, develop the physical design of the models of tense structures, which may result in a variety of forms. The difficult transition of the form, is the application of the pattern, since the system is subjected to the constructive measures of the material, for it is developed a method that will generate geometric simulations, creating designs of tense structures in a simpler way, using software of common use.
___Keywords: design methodology, applied geometry, computational model.
___Resumen: El origen de la investigación se desarrolla en la metodología de traslación geométrica de una superficie mínima, la incógnita, es elaborar una metodología de diseño que se ajuste a un programa virtual y éste, desarrolle el diseño físico de los modelos de tenso estructuras, del que pueden resultar una variedad de formas. La difícil transición de la forma, es la aplicación del patronaje, ya que el sistema se somete a las medidas constructivas del material, para ello se desarrolla un método que generará simulaciones geométricas, creando diseños de velarías de una forma más sencilla, mediante un software de uso común.
___Palabras clave: metodología del diseño, geometría aplicada, modelo computacional.
___Resumo: A origem da pesquisa é desenvolvida na metodologia de tradução geométrica de uma superfície mínima, o desconhecido, é desenvolver uma metodologia de design que se encaixa em um programa virtual e, desenvolver o design físico dos modelos de estruturas tensas, que pode resultar em uma variedade de formas. A difícil transição da forma, é a aplicação do padrão, uma vez que o sistema é submetido às medidas construtivas do material, pois desenvolve um método que irá gerar simulações geométricas, criando projetos de velarías de forma mais simples, por meio de software de uso comum.
 ___Palavras-chave: metodologia de projeto, geometria aplicada, modelo computacional.
___Recibido: 10 de agosto 201. Aceptado: 1 de octubre de 2017.
Licence
Copyright (c)
References
Banco, A. (2007): Arquitectura Textil, Transformación del Espacio, 1ª, Ed, Editorial Poseidón. Madrid, España.

Berger, H. (1996);"Light Structures, Structures of light, the art of tensile Architecture." 1a Edition Basel; Berna, Suiza.

Conrad, R. (1979), "Frei Otto: Estructuras, estudios y trabajos sobre la construcción ligera", 1a Ed, Editorial Gustavo Gili, Barcelona.

Engel, H. (2006); "Sistema de Estructuras",4a Ed.; Editorial Gustavo Gili, S.A.; México

Hernández Vázquez, L.; Hernández Bonilla, O. (2012); Tesis: Detalles de Tenso Estructuras en la Arquitectura; Director de Tesis; Dr. Carlos Cesar Morales Guzmán, Universidad Veracruzana. Poza Rica, Veracruz, México.

López Valdez, A. (2012): Tesis: Desarrollo de Geometrías Hiperbólicas por Computadora; Director de Tesis; Dr. Carlos Cesar Morales Guzmán, Universidad Veracruzana. Poza Rica, Veracruz, México.

Moore, F. (2000); "Compresión de las Estructuras en la Arquitectura", 1a Ed. Editorial interamericana Mcgraw-Hill.

Morales Guzmán, C. (2012) Arquitectura Tensada, Estancia Post Doctoral. UPC, Barcelona, España.

Otto, F. (1962) "Cubiertas Colgantes", Versión española Folguera Francisco, 1a Ed.; Editorial Labor S.A; Barcelona.

Sánchez Sánchez, F. (1992): Estructuras Ligeras para Grandes Luces, 1ª, Ed, Editorial Fundación Emilio Pérez Piñero. Sevilla, España.