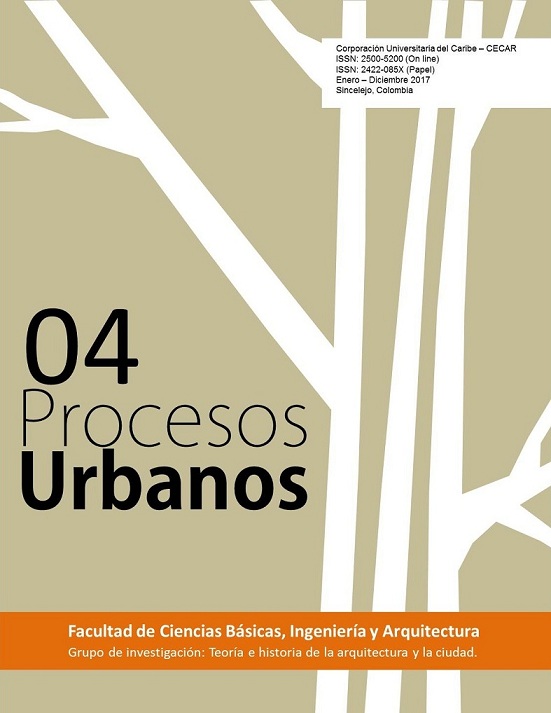 Ver / Descargar

PDF (Español (España))
How to Cite
Fernandez dos Santos G., & Dos Reis Pereira M. A. (2017). Participatory Design for social innovation. Procesos Urbanos, 4(4), 100 - 111. https://doi.org/10.21892/2422085X.353
Abstract
Abstract: In contemporary social innovation presents itself as an alternative in the search for solutions to specific problems. In this regard, in conjunction with two socioeconomically disadvantaged urban communities in the city of Bauru, SP., Brazil, this study has devised two small structures. The method discussed was the research participant, in order to articulate some participatory design activities among community residents. The main materials used were bamboo and waste, both locations. The approach of the designer with the residents allowed to plan, design and produce the structures, demonstrating the viability of new components to generate more sustainable construction and thus aligned with current needs.
___Keywords: design; participatory design; social innovation; constructive components; bamboo.
___Resumen: En la contemporaneidad, la innovación social se presenta como una alternativa en la búsqueda de soluciones de problemas específicos. En ese sentido, en conjunto con dos comunidades urbanas socioeconómicamente carentes en la ciudad de Bauru, SP., Brasil, este estudio concibió dos pequeñas estructuras. El método abordado fue el de la investigación-participante, buscando articular actividades de un diseño participativo junto a los moradores de las comunidades. Los principales materiales empleados fueron el bambú y los residuos, ambos locales. La aproximación del diseñador con los habitantes posibilitó planear, proyectar y construir las estructuras, demostrando la viabilidad de que se generen nuevos componentes constructivos más sostenibles y, de ese modo, alineados a las necesidades actuales.
___Palabras clave: design; design participativo; innovación social, componentes constructivos; bambú.
___Resumo: No contemporâneo, a inovação social apresenta-se como uma alternativa na busca por soluções de problemas específicos. Nesse sentido, em conjunto com duas comunidades urbanas socioeconomicamente carentes na cidade de Bauru, SP., Brasil, este estudo concebeu duas pequenas estruturas. O método abordado foi o da pesquisa-participante, visando articular atividades de um design participativo junto dos moradores das comunidades. Os principais materiais empregues foram o bambu e resíduos, ambos locais. A aproximação do designer com os moradores possibilitou planejar, projetar e confeccionar as estruturas, demonstrando a viabilidade de serem gerados novos componentes construtivos mais sustentáveis e, desse modo, alinhados às atuais necessidades.
___Palavras-chave: design; design participativo; inovação social, componentes construtivos; bambu.
___Recibido: 30 de julio 2017. Aceptado: 17 de septiembre de 2017.
Licence
Copyright (c)
References
Bonsiepe, G. (2011). Design, Cultura e Sociedade. São Paulo, Brasil: Blücher.

Brasil, Lei nº 12.484 de 8 de setembro de 2011. (09 de set. 2011, p. 01) Institui a Política Nacional de Incentivo ao Manejo Sustentado e ao Cultivo do Bambu - PNMCB. Diário Oficial da União. Brasília, DF: Brasil. Disponível em http://www2.camara.leg.br/legin/fed/lei/2011/lei-12484-8-setembro-2011-611401-publicacaooriginal-133564-pl.html. Consultado em 04 de junho de 2013.

Fundação João Pinheiro, Centro de Estatística e Informações. (Publicação - 17 de outubro de 2013, atualização – 14 de julho de 2017). Déficit habitacional no Brasil 2013-2014. Disponível em http://www.fjp.mg.gov.br . Consultado em 20 de janeiro de 2017.

Le Boterf, G. (1980). Pesquisa Participante: propostas e reflexões metodológicas. In: Brandão, C. R. (Org.). (1999). Repensando a pesquisa participante. São Paulo, Brasil: Brasiliense.

Manzini, E. Metaprojeto hoje: guia para uma fase de transição. Prefácio. In: De Moraes, Dijon. (2010). Metaprojeto: o design do design. São Paulo, Brasil: Blücher.

Papanek, V. (1995). Arquitectura e design. Ecologia e ética. Portugal: Edições 70.

Pereira, M. A. R., Beraldo, A. L. (2008). Bambu de corpo e alma. Bauru, Brasil: Canal 6 Editora.

The World Design Organization – WDO. (2017). Definition of industrial design. Disponível em http://wdo.org/about/definition/. Consultado em 05 de maio 2017.

Torgal, F. P., Jalali, S. A. (2010). A sustentabilidade dos Materiais de Construção. Portugal: Vilaverdense.