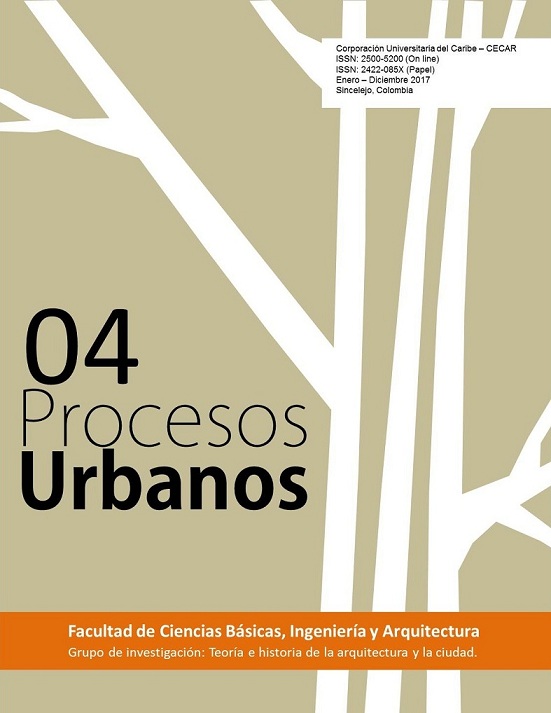 Ver / Descargar

PDF
Cómo citar
Lopez Altamirano O. J., & Moura M. C. (2017). La ciudad como red y sistema de navegación. Procesos Urbanos, 4(4), 39 - 46. https://doi.org/10.21892/2422085X.349
Resumen
Resumen: Se exploran los campos del diseño, arquitectura y urbanismo para traer la cuestión de la navegación, que posibilitan la conjugación de puntos en conexión, similar al modelo de red neuronal artificial, internet, las redes hipermedia, o hasta los trazos de la forma urbana que generan patrones de comportamiento y percepción. Los diseños que dan forma e identidad a las ciudades igual que las redes digitales, finalmente funcionan como estructuras de integración, jerarquía, referencias, y elementos que componen configuraciones, haciéndose complejas y ordenadas al mismo tiempo, en constante expansión y sintetización, así como el resultado de la contemporaneidad, siempre reinventándose.
___Palabras clave: design; urbanismo; contemporaneidad; navegación; comunicación.
___Abstract: The information design and architecture-urban, as is the interior of navigation systems that allow the communication process and the conjugation of points in connection similar to the model of artificial neural network, the Internet, hypermedia networks, or even the urban composition traits that form the reticles of cities that generate behavior and perception patterns. The drawings that form and identity to the same cities that digital networks ultimately function as integration structures, hierarchy, references and configurations, which are continuously changing, becoming complex and arranged to same time, constantly expanding and sintering, as a result of contemporary always reinvent themselves.
___Keywords: design, urbanism, contemporary, navigation, communication.
___Resumo: Explorar os campos do design, arquitetura e urbanismo para trazer a questão da navegação, que possibilitam a conjugação de pontos em conexão, similar ao modelo de rede neural artificial, internet, as redes hipermídias, ou até os traços de composição urbana que geram padrões de comportamento e percepção. Os desenhos que dão forma e identidade às cidades igual que as redes digitais, finalmente funcionam como estruturas de integração, hierarquia, referências, e elementos que compõem configurações, tornando-se complexas e ordenadas ao mesmo tempo, em constante expansão e sintetização, assim como resultado da contemporaneidade, sempre se reinventando.
___Palavras- chave: design, urbanismo, contemporaneidade, navegação, comunicação.
___Recibido: 1 de junio 2017. Aceptado: 1 de septiembre de 2017.
Palabras clave:
Licencia
Derechos de autor 2017 Revista Procesos Urbanos está distribuido bajo la Licencia:
Esta obra está bajo licencia internacional
Creative Commons Reconocimiento-CompartirIgual 4.0
.
Citas
Alexander, C. (1965) A City is Not a Tree. Architectural Forum (Vol. 122) Edit. John Thackara, Thames and Hudson, London, 1965. No. 1, pag. 58-61 e No. 2, pag. 58-62. Reimpreso em: Design After Modernism.

Behance. move | BRT Belo Horizonte. (2013). Disponível online em: < https://www.behance.net>. Também disponível em: . Data de acesso: 19 agosto 2016

Carpintero, A. (2007) Brasília: Algumas notas sobre urbanização dispersa e novas formas de Tecido urbano. In: Nestor Goulart Reis; Marta Soban Tanaka. (Org.). Brasil, Estudos sobre dispersão urbana. 1 ed. São Paulo-SP: FAU-USP; LAP; FAPESP.

Gehl, J. (1987) Life between buildings. Using public space. Washington. (1987/2001).

Holston, J. (1993) A cidade modernista: uma critica de Brasília e sua utopia. São Paulo: Companhia das Letras.

Moura, M. (2014) Design Brasileiro Contemporâneo: Reflexões/ org. Monica Moura. São Paulo: Estação das Letras e Cores.

Núñez, J., M. A.; Bueno, S.; M. R. Diánez, M.C. E. (2004). Revista SUMA 45, Revista sobre la enseñanza y el aprendizaje de las matemáticas. Disponível em:. Data de acesso: novembro 2016.

Rocambol, S. (s.d) Labyrinth and the tree worlds. Disponível online em: http://www.geomancy.org/ezines/ezine_18/sergey.html. Data de acesso: 20 agosto 2016.

Salingaros, N. A. (1998) Journal of Urban Design, Volume 3, p. 53-71. Taylor & Francis Limited.