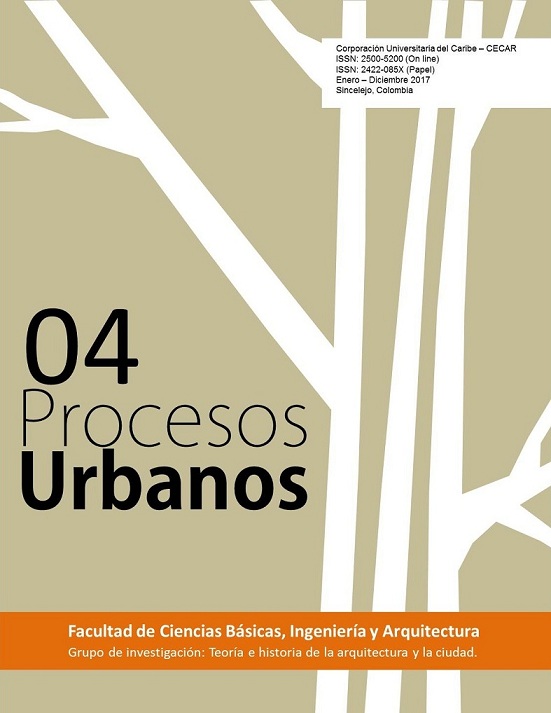 Ver / Descargar

PDF (Español (España))
How to Cite
Pinzón Rivera J. A. (2017). Architectural Evolution of the Church and Convent of las Aguas in Bogotá (1644-1889). Procesos Urbanos, 4(4), 9 - 27. https://doi.org/10.21892/2422085X.347
Abstract
Abstract: This article responds to the question "what was the constructive evolution of the Architectural Cooperative of ´Las Aguas´, during the colonial period?"  The response to this question includes: the identification, transcription, comparison and study of primary and secondary sources, writings of other authors, plans, prints, photographs and surveys. The comparative study made it possible to identify events such as the beginning, changes and permanence of a construction that in general terms arose in the midst of the process of evangelization in the capital of the "Nuevo Reino." additionally, during this period the article addresses changes the architectural cooperatives implemented in relation to events such as the struggles for independence, Civil wars of the XIX (19th) Century and epidemics such as smallpox.
___ Keywords: Architecture religious, Doctriners churches, Convents, Dominicos, Military Hospital, Mills.
___Resumen: El presente artículo responde al cuestionamiento ¿cuál ha sido evolución constructiva del conjunto arquitectónico de Las Aguas durante el periodo colonial?. La respuesta incluyó la identificación, transcripción, comparación y estudio de las fuentes primarias y secundarias: escritos de otros autores, planos, grabados, fotografías, levantamientos. El estudio comparativo permitió identificar acontecimientos como el inicio, los cambios y las permanencias de una construcción que en términos generales surge en medio del proceso de evangelización en la capital del Nuevo Reino y va cambiando de usos frente a hechos como las luchas de independencia, las guerras civiles del siglo XIX y epidemias como la viruela.
___Palabras clave: Arquitectura colonial, Iglesias doctrineras, Conventos, Dominicos, Hospital militar, molinos.
___Resumo: Este artigo responde ao questionamento sobre o que foi a evolução construtiva do conjunto arquitetônico das Aguas durante o período colonial? A resposta incluiu a identificação, transcrição, comparação e estudo de fontes primárias e secundárias: escritos de outros autores, planos, impressões, fotografias, pesquisas. O estudo comparativo permitiu identificar eventos como a iniciação, mudanças e permanência de uma construção que, em termos gerais, surge no meio do processo de evangelização na capital do Novo Reino e foi mudando seus usos em face de eventos como lutas pela independência, guerras civis do século 19 e epidemias como a varíola.
___Palavras-chave: Arquitetura colonial, igrejas de doutrina, conventos, dominicanos, hospital militar, moinhos.
___Recibido: 9 de junio 2017. Aceptado: 14 de julio de 2017.
Licence
Copyright (c)
References
Archivo General de la Nación, Bogotá, Colombia (AGN).
Plano de Bogotá. Por el Coronel Lans. 1824. AGN. SMP.2, REF. 1275.Recuadro No. 4. Litografía sobre papel. 81 x 60 cm.

Archivo Central Especializado de Planeación. Bogotá.

Archivo del Ministerio de Cultura. Licitación pública N° 007 de 2000. Capítulo 6. Condiciones técnicas del proyecto. Reseña histórica. Departamento Cundinamarca. Municipio Bogotá. Carpeta/sobre 3, parte 1. No. consecutivo 1575.

Corporación de Archivos de Arquitectura Colombiana - AR-CO. Planoteca. Bogotá.

Biblioteca Luis Ángel Arango. Bogotá. Plano de Bogotá asignado a Isaac Holton. ca. 1853. BLAA. Ref. 918.6 H65 n1 19 Ed. Litografía. Soporte: papel. 26x29 cm.

Plan of the City Bogota, the capital of the Republic of Colombia (1822-1823). Richard Blache, Not of Colombia Taken, of the years, 1822-1823, (…). BLAA. No. 4009. Impresión sobre papel.
BIBLIOTECA NACIONAL DE COLOMBIA.

Unidad Administrativa Especial de Catastro Distrital. SUPERCADE CAD. Planoteca.