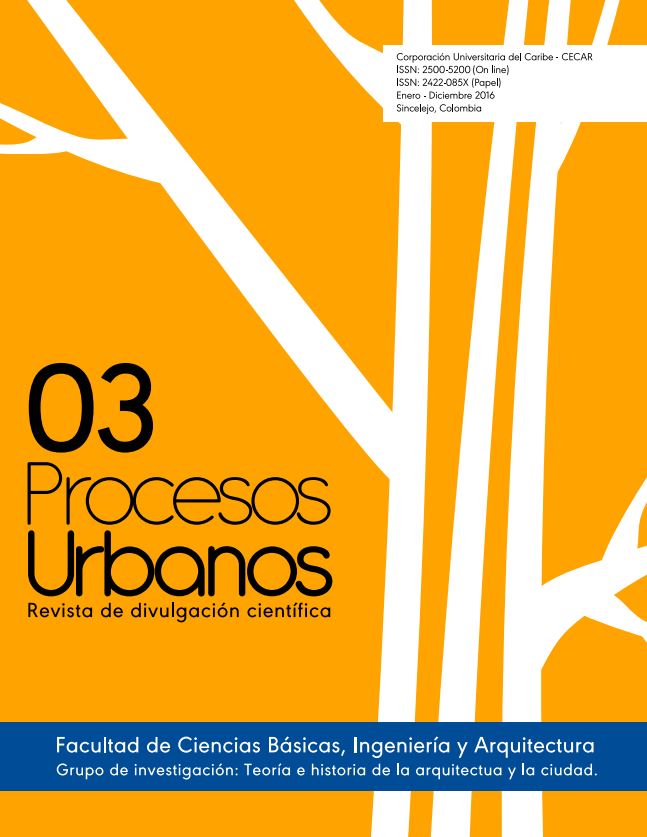 Ver / Descargar

PDF (Español (España))
How to Cite
Martínez Osorio P. A. (2016). The subjectivity of the methodology in the design process of the Architecture. Procesos Urbanos, 3(3), 149 - 157. https://doi.org/10.21892/2422085X.275
Abstract
Abstract: This article presents a reflection on the methodological processes used in the design process of the Architecture, based on a methodological proposal focused on research and applicable to architectural design, which was confronted in 2014, during an academic exchange experience with the School of Design of the Universidad Veiga de Almeida, through the mobility processes that the Ilumno network presents. The main objective of the exploratory study from which this work is derived, proposes the identification of methodological processes common to any research process in the social sciences and its applicability to methodological processes with which to project the Architecture. As a main result of the testing experience of this methodology, a broad thinking is obtained with which to approach a problem of architectural design. In this sense it is possible, from the perspective of the investigative task, to understand the process in a way that is unique, special and inherent to each researcher-designer, who, from his/her needs and mental processes, appropriates it from multiple paths to the more correct answer as a solution to the problem posed.
___Keywords: Pedagogy, architecture, project research, subjectivity.
___Resumen: El presente artículo presenta una reflexión sobre los procesos metodológicos utilizados en la proyectación de la Arquitectura, a partir del planteamiento de una propuesta metodológica enfocada en la investigación y aplicable al diseño arquitectónico, que fue confrontada en el año 2014, durante una experiencia de intercambio académico con la Escuela de Diseño de la Universidad Veiga de Almeida, a través de los procesos de movilidad que plantea la red Ilumno. El objetivo principal del estudio de tipo exploratorio del cual se deriva este trabajo, propone la identificación de procesos metodológicos comunes en cualquier proceso investigativo en las ciencias sociales, y su aplicabilidad a procesos metodológicos con los cuales proyectar la Arquitectura. Como resultado principal de la experiencia de contrastación de esta metodología planteada, se obtiene un pensamiento amplio con el cual abordar un problema de diseño arquitectónico. En este sentido es posible, desde la perspectiva del quehacer investigativo, entender el proceso de una manera propia, especial e inherente a cada investigador-diseñador, el cual, desde sus necesidades y procesos mentales, la apropia desde múltiples caminos hasta llegar a la respuesta más acertada como solución al problema planteado.
___Palabras clave: Pedagogía, arquitectura, investigación proyectual, subjetividad.
___Recibido: 21 de abril de 2016. Aceptado: 23 julio 2016.
Keywords:
Licence
Copyright (c)
References
Aguilar, M. (2000). Camino al diseño, proceso del diseño arquitectónico. Manizales, Colombia. Universidad Nacional de Colombia.

Correal Pachón, G., D. y Verdugo Reyes, H. (2011, Enero - Diciembre). Sobre modelos pedagógicos y el aprendizaje del proyecto arquitectónico. Revista de Arquitectura 13, p.80 –91. Bogotá, Colombia. Universidad Católica de Colombia.

Fajardo, V. y Wagner, T. (2003) Métodos, contenidos y enseñanza de las artes en América Latina y el Caribe. División de Arte e Iniciativas Culturales del Sector de Cultura, UNESCO.

Galeano, J. (2009). Innovar en el currículo universitario. Medellín: Universidad de Antioquia.

Martínez, P. (2009). La arquitectura como problema. Sincelejo, Colombia. Corporación Universitaria del Caribe, CECAR.

Rodríguez, L. (1989). Para una teoría del diseño, México: Trillas.

Tamayo, M. (1999). Serie aprender a investigar, modulo 2, Bogotá: ICFES.