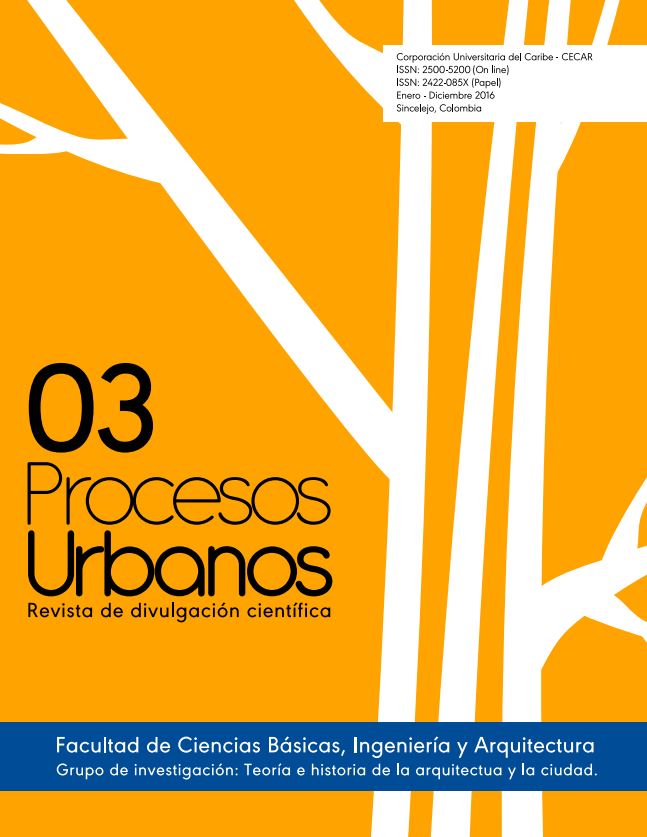 Ver / Descargar

PDF (Español (España))
How to Cite
Ramíres Brito B., & López Altamirano O. J. (2016). Transdisciplinary aspects of design and architecture: a methodological approach based on innovation. Procesos Urbanos, 3(3), 143 - 148. https://doi.org/10.21892/2422085X.274
Abstract
Abstract: In the current scenario, there is an intense discussion of transdisciplinarity in the search of innovation in the development of research and application of products. The architecture and the design, cover a project and methodological process. In this sense, the present study aimed to review the literature with descriptive case studies, whose approach was the transdisciplinary methodological process, focusing on the interaction between design and architecture. This study encourages the interaction in a transversal way, between the processes directed to the continuous evolution of the system. Transdisciplinarity allows the designer and architect to grasp new concepts and techniques that contribute to the development of innovation. These two areas are able to relate, challenging the limits of constructive thinking, a fact that implies the exchange of knowledge and the intersection between its elements. Therefore, it is
suggested to observe the constructive process as a complex system, taking into account the
different areas and sectors that allow the relations with society, the environment, time and
space.
___Keywords: Design, architecture, transdisciplinarity, innovation.
___Resumen: En el escenario actual, hay una intensa discusión de la transdisciplinariedad en la búsqueda de innovar en el desarrollo de investigación y aplicación de los productos. La arquitectura y el diseño, abarcan un proceso proyectual y metodológico. En este sentido, el presente estudio tuvo como objetivo la revisión de literatura con estudios de caso descriptivo, cuyo enfoque fue el proceso metodológico transdisciplinario, centrándose en la interacción que existe entre el diseño y la arquitectura. Este estudio incentiva la interacción de forma transversal, entre los procesos dirigidos a la continua evolución del sistema. La transdisciplinariedad permite al diseñador y arquitecto apoderarse de nuevos conceptos y técnicas que contribuyen al desarrollo de innovación. Estas dos áreas son capaces de relacionarse, desafiando los límites del pensamiento constructivo, hecho que implica el intercambio de conocimientos y la intersección entre sus elementos. Por lo tanto, se sugiere observar el proceso constructivo como un sistema complejo, teniendo en cuenta las diversas áreas y sectores que permitan las relaciones con la sociedad, el medio ambiente, tiempo y espacio.
___Palabras clave: Diseño, arquitectura, transdisciplinariedad, innovación.
___Recibido: 15 de agosto de 2016. Aceptado: 30 de septiembre de 2016.
Keywords:
Licence
Copyright (c)
References
Barata, T. (2008). Propuestas de paneles leves de madera para ensamble externo adecuado a la zonificación bioclimática brasileña. Tesis (Doctorado en Ingenieria Civil) - Universidade Estadual de Campinas Faculdade de Engenharia Civil, Arquitetura e Urbanismo. São Paulo, Brasil.

Bonsiepe, G. (2011). Diseño, cultura y sociedad. São Paulo, Brasil. Blucher.

Conti, G. M. (2008). Moda y cultura de projeto industrial: hibridación de saberes complejos. In: Pires, Dorotéia Baduy (org.). Diseño de moda: Visiones diversas. Barueri, SP, Brasil: Estación de las Letras y Colores.

Moura, M. (2014). Diseño brasileño contemporáneo: reflexiones. São Paulo, Brasil:. Estación de las Letras y Colores.

Paoliello, M. A. (2005). Edificaciones pre-fabricadas en madeira de plantaciones forestales:
una discusión sobre sustentabilidad y desempeño como base para recomendaciones de proyecto. Defensa (Maestría en Ingeniería Civil) - Universidade Federal do Espírito Santo. Vitória, ES, Brasil.

Souza, P. de M. (2013). Estrategias de construcción para estructuras textiles vestibles. Tesis (Doctorado en Diseño) – Universidade Estadual Paulista. Faculdade de Arquitetura, Artes e Comunicação, Bauru, SP, Brasil.

Souza, P. de M. (2014). Moda y Arquitectura: relaciones que delinean espacios habitables. Dobras (Barueri, SP), v. 7, p. 87-96.

Tigre, P. (2006). Gestión de la innovación: La economía de la tecnología de Brasil. Rio de Janeiro, Brasil:. Elsevier.

Volpato, G. (2015). Guía práctica para redacción científica: publique en revistas internacionales._______, Brasil:.Best Writing.

Yin, R. (2001). Estudio de caso: planeación y métodos I trad. Daniel Grassi- 2.ed. Porto Alegre, RS, Brasil:. Bookman.