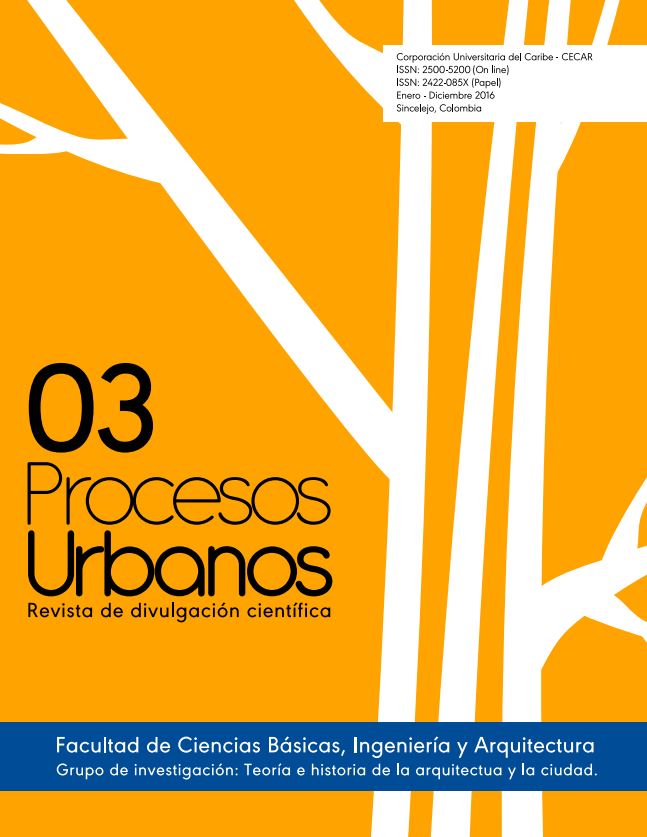 Ver / Descargar

PDF (Español (España))
How to Cite
Portillo Ríos R. (2016). Design criteria for educational buildings in the state of Zulia, Venezuela. Procesos Urbanos, 3(3), 120 - 132. https://doi.org/10.21892/2422085X.272
Abstract
Abstract: This work seeks to determine the design criteria for the buildings of the public educational units of the state of Zulia. For this, a holistic, descriptive research was proposed with a qualitative approach, with descriptive documentary design and multi-variable trait (eventual). Public educational institutions bring together the largest number of children and young people enrolled in the Venezuelan school system, with Zulia being the region with the highest school enrollment. Thus, the main beneficiaries of this study are the agencies responsible for implementing public policies in terms of school infrastructure, as well as the communities served with such spaces. The analysis procedure was qualitative, with the intention of categorizing the data of the sources used. They were made following the formal, spatial, functional, environmental aspects and the constructive technique of the buildings studied. From this perspective, the general design criteria for the public educational buildings of the region, framed in the current FEDE regulations, are listed.
___Keywords: Design criteria, educational buildings, school architecture, public schools.
___Resumen: Este trabajo busca determinar los criterios de diseño para las edificaciones de las unidades educativas públicas del estado Zulia. Para ello, se planteó una investigación holística, descriptiva con enfoque cualitativo, con diseño descriptivo documental y multi-variable de rasgo (eventual). Las instituciones educativas públicas agrupan la mayor cantidad de niños y jóvenes inscritos en el sistema escolar venezolano, siendo el estado Zulia la región con la mayor cantidad de matrícula escolar. De tal manera, que los principales beneficiarios de este estudio son los organismos encargados de ejecutar las políticas públicas en términos de infraestructura escolar, así como también las comunidades servidas con dichos espacios. El procedimiento de análisis fue cualitativo, con la intención de categorizar los datos de las fuentes utilizadas. Los mismos se hicieron siguiendo los aspectos formales, espaciales, funcionales, ambientales y la técnica constructiva de las edificaciones estudiadas. Desde esta perspectiva, se enumeran los criterios generales de diseño para las edificaciones educativas públicas de la región, enmarcados en la normativa vigente de FEDE.
___Palabras clave: Criterios de diseño, edificaciones educativas, arquitectura escolar, escuelas públicas.
___Recibido: 2 de mayo 2016. Aceptado: 23de julio 2016.
Licence
Copyright (c)
References
Asamblea nacional de la República Bolivariana de Venezuela (2009), Ley orgánica de educación, Caracas Venezuela, Palacio Federal Legislativo, Gaceta Oficial nº extraordinario 5.929 de fecha 15 de agosto de 2009.

FEDE, Fundación de Edificaciones y Dotaciones Educativas (2015). Quiénes somos. http://www.fede.gob.ve/web/index.php/la-fundacion/quienes-somos [Consulta: 8 de abril de 2015].

Fonseca, X. (1994). Las medidas de una casa, antropometría de la vivienda, primera edición, ciudad de México, México, Editorial Pax. pp. 9.

Gerencia de proyectos de FEDE. Fundación de Edificaciones y Dotaciones Educativas (2007). Normas y recomendaciones para el diseño de edificaciones educativas. Caracas, Venezuela. Editado por el Ministerio del Poder Popular la Educación, pp. 29-230.

Gobernación del estado Zulia (2002), Decreto para la creación de la Fundación para la Infraestructura de la Planta Física Educativa del estado Zulia (FUNDAEDUCA). Decreto Gubernamental Nº 402, de fecha 06 de noviembre de 2002, Gaceta Oficial Extraordinaria del estado Zulia nº 735 de fecha 30 de noviembre de 2002.

Gutiérrez Paz, J. (2009). Estándares básicos para construcciones escolares, una mirada crítica. Revista Educación y Pedagogía. Volumen 21, número 54 mayo-agosto, pp 155-176.

López, O.; Marinilli, Á., Bonilla, R., Fernández, N., Domínguez, J., Coronel, G.; Baloa, T.; Vielma, R. (2010). Evaluación sismorresistente de edificios escolares en Venezuela. Revista Facultad de Ingeniería UCV. Volumen 25, número 4, pp 81-94.

Loyola Vergara, M.; Goldsack L. (2010). Constructividad y Arquitectura, Santiago de Chile, Chile, primera edición, Editorial de la Universidad de Chile, pp. 69-70.

Ministerio para el Poder Popular de la Educación (2014). "Gobierno nacional apuesta a la excelencia educativa". http://www.me.gob.ve/noticia.php?id_contenido=28212. [Consultado: 20 de abril de 2015].

Rapoport, A. (2003). Cultura, arquitectura y diseño, volumen 5 de Arquitectonics. Mind, land & society, primera edición. Barcelona, España, Editorial de la Universidad Politécnica de Catalunya, pp. 114-115.

Sanoff, H. (2006). Programación y participación en el diseño arquitectónico, volumen 12 de Arquitectonics: Mind, land & society, primera edición. Barcelona, España, Editorial de la Universidad Politécnica de Catalunya, pp. 116.

UNESCO (2015). Objetivos del milenio. http://www.unesco.org/new/es/our-priorities/education-for-all/ . [Consultado: 20 de abril de 2015].

Instituto Nacional de Estadísticas. INE. (2015). Matrícula de educación primaria por dependencia, según año escolar, 2003/04-2012/13 Disponible en: http://www.ine.gov.ve/index.php?option=com_content&view=category&id=64&Itemid=39# . [Consultado: 18 de abril de 2015].