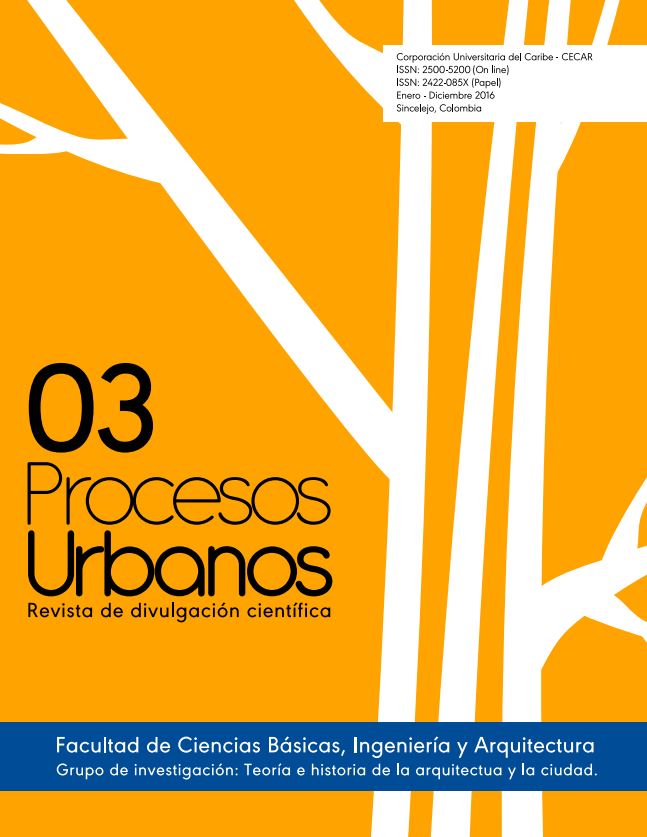 Ver / Descargar

PDF (Español (España))
How to Cite
Guerrero Pájaro M. (2016). Retention reservoirs and green canals: tools for flood control and urban planning Case study: Turbaco municipality, Bolivar. Procesos Urbanos, 3(3), 108 - 119. https://doi.org/10.21892/2422085X.271
Abstract
Abstract: The rapid growth of our cities and municipalities, and the rapid increase in the demand for urbanizable land, has led to the waterproofing of urbanized land, which has led to an increase in runoff flows. On the other hand, climate change imposes new challenges in the management of storm drainage for our cities and municipalities. The municipality of Turbaco lives a problem in the matter of rainwater drainage, due to the increase in the demand of urbanizable land and the waterproofing of the urbanized land. Retention reservoirs and green channels emerge as an alternative to stormwater management. These systems are easy to adapt to the environment and are solutions that are in favor of the environment, while being part of the urban landscape.
___Keywords: Floods, reservoirs, green channels, hydrological analysis, urban planning.
___Resumen: La rapidez en el crecimiento de nuestras ciudades y municipios, y el aumento vertiginoso en la demanda de suelo urbanizable, ha originado la impermeabilización del suelo urbanizado, lo que ha producido un aumento en los caudales de escorrentía. Por otro lado, el cambio climático impone nuevos desafíos en materia de gestión del drenaje pluvial para nuestras ciudades y municipios. El municipio de Turbaco vive una problemática en materia de drenaje pluvial, por causa del aumento en la demanda de suelo urbanizable y por la impermeabilización del suelo urbanizado. Los embalses de retención y las canales verdes surgen como una alternativa para la gestión de las aguas pluviales. Estos sistemas son de fácil adaptación al medio y son soluciones que van en favor del medio ambiente, al tiempo que constituyen parte del paisaje urbano.
___Palabras clave: Inundaciones, embalses, canales verdes, análisis hidrológico, planificación urbana.
___Recibido: 13 abril 2016. Aceptado: 19 de mayo de 2016.
Licence
Copyright (c)
References
ALCALDIA MUNICIPAL DE TURBACO, BOLIVAR, (2002) Plan Básico de Ordenamiento Territorial, agosto de 2002.

AYUNTAMIENTO DE MADRID. Ordenanza de Gestión y Uso Eficiente del Agua en la ciudad de Madrid. Madrid. 1-108.

CORPORACIÓN AUTÓNOMA DEL CANAL DEL DIQUE (CARDIQUE) – UNIVERISDAD DE CARTAGENA, (2011) Plan Prioritario de Drenaje 2011.

Guerrero Pájaro, M. (2014) Tesis de maestría. Control de inundaciones empleando los sistemas de drenaje sostenible como herramienta para la planificación urbana. Universidad del Norte 2014.

LIMUSA.EPA. (2005). Manual del usuario SWMM 5.0.