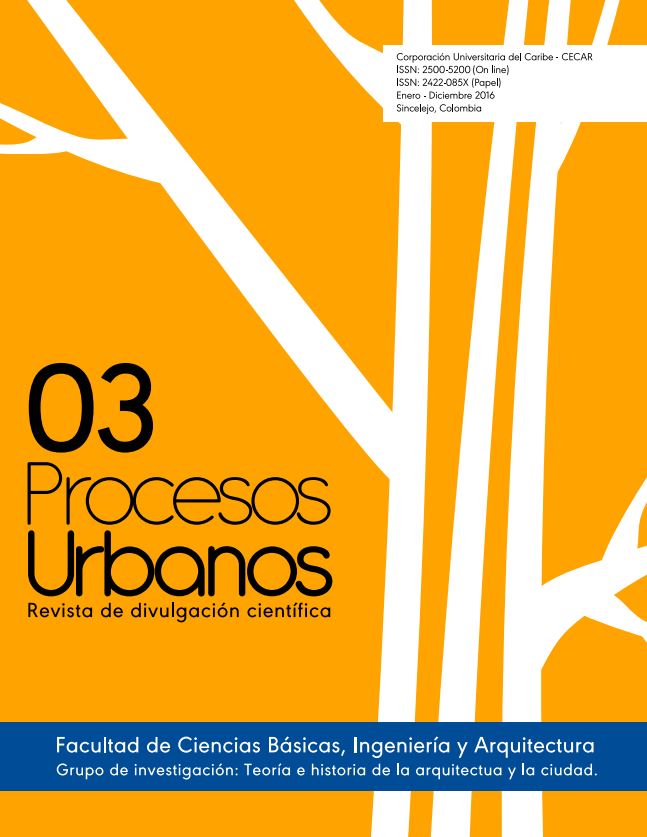 Ver / Descargar

PDF (Español (España))
How to Cite
Guevara Guevara O., & Sevilla Torres D. (2016). Environmental urban analysis of coastal space in the municipality of Coveñas in the department of Sucre, Colombia. Procesos Urbanos, 3(3), 99 - 107. https://doi.org/10.21892/2422085X.270
Abstract
Abstract: The present article makes a description and analysis of the location and characteristics of the coastal space of the municipality of Coveñas in the department of Sucre, Colombia. From this analysis, it was possible to identify and explain the urban and environmental problems that this coastal area has. These problems include inaccessibility to coastal edges, high density of second residences in areas of potential tourist use, high density of built-up areas in front of mangroves areas, sewer system failures, floods, inadequate use of the streams and, above all, the inaccuracies of the territorial planning system. This is how public and private actors apply the "solution" for the urban environmental problems of Coveñas, which only consists in the construction of works to counter the erosion of the coasts, leaving aside the other problems that affect the municipality. It can be affirmed that solutions have not been adopted, nor are they foreseen to minimize the problems that afflict the municipality and the community. The aim of this analysis is to propose solutions, from territorial planning; to reduce the problems described in advance, to demonstrate how, from
the shortcomings in territorial planning, a compendium of problems derives that puts in play the natural wealth, the tourist potential and the well-being of the population of this municipality.
___Keywords: Coveñas, Sucre, Colombia, territorial planning system, urban-environmental
opportunities.
___Resumen: El presente artículo realiza una descripción y análisis de la localización y características del espacio litoral del municipio de Coveñas en el departamento de Sucre, Colombia. A partir de este análisis se pudo identificar y explicar los problemas urbanos y ambientales que padece este espacio litoral. Dentro de estos problemas, se destacan: la Inaccesibilidad a los bordes costeros, la alta densidad de segundas residencias en zonas de potencial uso turístico, la alta densidad de zonas construidas frente a manglares, las falencias en el sistema de alcantarillado, las inundaciones, el inadecuado uso de los arroyos y, sobre todo, las inexactitudes del sistema de planificación territorial. Es así como se expone la "solución" aplicada por los actores públicos y privados para los problemas urbanos ambientales de Coveñas, la cual consiste, únicamente, en la construcción de obras para contrarrestar la erosión de las costas, dejando de lado los demás problemas que afectan al municipio. Se puede afirmar que no se han adoptado, ni se prevén soluciones para minimizar los problemas que aquejan al municipio y a la comunidad. Lo que se pretende con este análisis es plantear soluciones, desde la planificación territorial, para disminuir los problemas descritos con antelación, para demostrar cómo, desde las falencias en la planificación territorial, se deriva un compendio de problemas que pone en juego la riqueza natural, el potencial turístico y el bienestar de la población de este municipio.
___Palabras clave: Coveñas, Sucre, Colombia, sistema de planificación territorial, oportunidades urbano-ambientales.
___Recibido: 9 de abril de 2016. Aceptado: 15 de octubre de 2016.
Licence
Copyright (c)
References
Alcaldía de Coveñas – Sucre (2014): Nuestro municipio. Información general. Disponible en http://www.covenas-sucre.gov.co/informacion_general.shtml#geografia

Benabent M. (2007): Los planes de ordenación del territorio en España. De la instrumentación a la gestión. Málaga: FUNDICOT.

Caracol Radio (2014). Emergencia sanitaria en Coveñas por colapso de alcantarillado. Disponible en http://caracol.com.co/radio/2014/09/08/regional/1410151200_403999.html

Concejo municipal de Coveñas (2006): Plan básico de ordenamiento territorial del municipio de Coveñas. Disponible en http://cdim.esap.edu.co/BancoMedios/Documentos%20PDF/cove%C3%B1assucrepbot2006.pdf

Concejo municipal de Coveñas (2008): Plan de desarrollo económico social y de obras públicas para el municipio de Coveñas 2008 – 2011 "un mar de ideas". Disponible en http://cdim.esap.edu.co/BancoMedios/Documentos%20PDF/3.%20plan%20de%20desarrollo%20%202.008-2.011%20definitivo.pdf

Corporación Autónoma Regional de los Valles del Sinú y del San Jorge (2009): plan de ordenamiento y manejo de las cuencas hidrográficas Caribe y San Jorge en la jurisdicción de "CARSUCRE". Disponible en http://www.ambientalex.info/normasnal/Resolucioncarvssj3452de2009.pdf

El Espectador (2012): Al menos 300 familias afectadas por inundaciones en Coveñas.

Disponible en http://www.elespectador.com/noticias/nacional/al-menos-300-familiasafectadas-inundaciones-covenas-articulo-364879

El Meridiano (2015). Erosión en 41 kilómetros. Disponible en http://elmeridiano.co/erosionen-41-kilometros/8511

Farguell & Barriocanal (2015): Diapositivas de la asignatura planificación de espacios fluviales y litorales. Barcelona: Universidad de Barcelona.

Gómez O. (2002): Ordenación territorial, Ediciones Mundi- Prensa. Madrid.

Indovina, F. (2004): ¿Por qué el planeamiento hoy?. Territorio y ciudad, (17), 1 – 5. INVEMAR, CVS, CARSUCRE, Ministerio del Medio Ambiente (2002): formulación del plan de manejo integrado de la unidad ambiental costera estuarina del río Sinú y golfo de Morrosquilllo, informe técnico fase I caracterización y diagnóstico. Disponible en http://www.invemar.org.co/redcostera1/invemar/docs/uacmorrosquillo.pdf

Parra, E. (2009): Ordenamiento territorial costero en el Caribe colombiano. Las directrices del Estado en los casos de estudio de Coveñas y San Andrés. Universidad Nacional de Colombia, Medellín, Colombia.

Quiñonez, O. (2012). Tragedia invernal en Sucre. Disponible en https://www.google.com.co/search?q=inundacion+en+el+municipio+de+cove%C3%B1as&rlz=1C1GGGE_esCO704CO704&espv=2&biw=1920&bih=973&source=lnms&tbm=isch&sa=X&ved=0ahUKEwis8ci13svOAhXIMyYKHet4AB0Q_AUIBygC#tbm=isch&q=inundacion+en+el+municipio+de+cove%C3%B1as+en+el+2012&imgrc=H29t1EdixY7xVM%3A