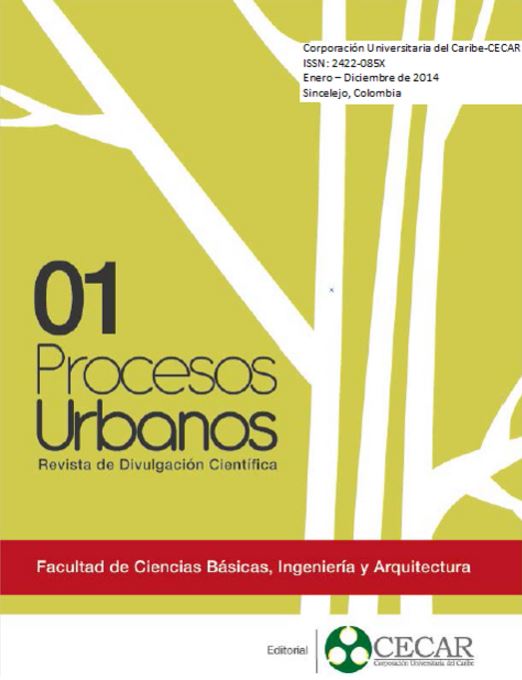 Ver / Descargar

PDF (Español (España))
How to Cite
Martínez Osorio P. A. (2014). In memoriam: Giancarlo Macchi, an italian architect in the colombian Caribbean (1940 - 2010). Procesos Urbanos, 1(1), 25-34. https://doi.org/10.21892/2422085X.15
Abstract
Abstract: This article presents results of the realized research on one of the most representative architects of Barranquilla's city, who left his fingerprint in the history of the architecture of the Colombian Caribbean. The developed investigation has as principal aim to reconstruct the history of life of this architect and his thoughts on the architecture, across the story in alive voice, and feels of the same personage, testimony that turns into a legacy on his visions and ideas and on the duty to be of the discipline of the architecture in the contemporary world. Developed with a historical hermeneutic approach, the investigation realized a search in depth, across the study of case of an architect of great importance in the construction and management of one of the capital cities of the Colombian Caribbean. From the story of this personage there reconstruct itself a part of the history of the modern architecture of Barranquilla's city, the successes and mistakes in the search of a development for the city and the region. As a conclusion there are identified fragments of the history of the architecture and the urban development in the Colombian Caribbean, the Caribbean is observed also as an exuberant land, with a charming landscape, which was transforming from the interventions of the man.
___Keywords: Architecture, architect, history of life, Colombian Caribbean.
___Resumen: Este artículo presenta resultados de la investigación realizada sobre uno de los arquitectos más representativos de la ciudad de Barranquilla, el cual dejó su huella en la historia de la arquitectura del Caribe colombiano. La investigación desarrollada tiene como objetivo principal reconstruir la historia de vida de este arquitecto y su pensamiento sobre la arquitectura, a través de la narración en viva voz, y sentir del mismo personaje, testimonio que se convierte en un legado sobre sus visiones e ideas y sobre el deber ser de la disciplina de la arquitectura en el mundo contemporáneo. Desarrollada con un enfoque histórico hermenéutico, la investigación realizó una búsqueda en profundidad, a través del estudio de caso de un arquitecto de gran importancia en la construcción y gestión de una de las ciudades capitales del Caribe colombiano. A partir de la narración de este personaje se recrea una parte de la historia de la arquitectura moderna de la ciudad de Barranquilla, los aciertos y desaciertos en la búsqueda de un desarrollo para la ciudad y la región. Como conclusión se identifican fragmentos de la historia de la arquitectura y el desarrollo urbano en el Caribe colombiano, se observa también al Caribe como una tierra exuberante, con un paisaje encantador, que se fue transformando a partir de las intervenciones del hombre.
___Palabras clave: Arquitectura, arquitecto, historia de vida, Caribe colombiano.
___Recibido febrero de 4 2014 / Aceptado agosto 30 de 2014
Licence
Copyright (c)
References
Arango, Silvia. (1993). historia de la arquitectura en Colombia. Editorial Centro editorial y Facultad de Artes, Universidad Nacional de Colombia, Bogotá.

Arroyo, Joe. (2002). En Barranquilla me quedo, incluida en el disco "aquí está el sabor… con Joe Arroyo", discografía en página web http://www.coveralia. com/discografias/joe-arroyo.php

Campos, Rafael. (2000). Caracterización de una excelente práctica docente universitaria. Ciudad universitaria Rodrigo Facio, 221 p. tesis doctoral (doctor en educación), Universidad de Costa Rica. Sistema de estudios de postgrado.

Bell Lemus, Carlos. (2003). El Movimiento Moderno en Barranquilla 1946 - 1964. Fondo Mixto de Cultura del Atlántico. Barranquilla.

Fontana, María Pía. Mayorga, Miguel. Martí, Aris. Piñón, Helio. (2006). Colombia arquitectura moderna. Escola Técnica Superior D´Arquitectura de Barcelona, ETSAB, 2da. edición, Barcelona.

Macchi, Giancarlo. (2006). (Entrevista realizada en su taller, Barranquilla, julio.