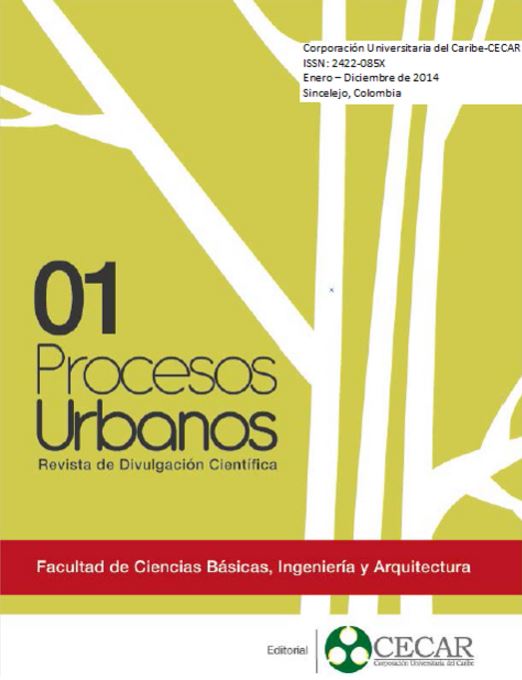 Ver / Descargar

PDF (Español (España))
How to Cite
Pérgolis J. C., & Rodríguez Ibarra C. I. (2014). The method in research Imaginaries and representations of urban form in daily life. Procesos Urbanos, 1(1), 17-24. https://doi.org/10.21892/2422085X.14
Abstract
Abstract: The urban investigation for many years has centered his interest on the study of the physical elements of the city. This work develops from an approach different from the speech of an abstract urbanism based on numbers and standards, but rather an urbanism focused on the existence of the inhabitant, the city, his meanings, his belonging and the sense of his life in this territory. The principal aim of this article is to show a method of work based on the identification and the analysis of urban statements and in the reading of a generating text of questions conducive to hypothesis. The investigation in process with which it parts, uses two methodological particular exercises, one from an investigation placed in the definition of "scientific method", arises from the reading of the only book, the question that guides the development of the study. The second exercise consists of generating a practice across the application of a methodology already experienced on previous works, wondering now is it possible to find the essence or the desire that motivates an event in the statement?; as partial conclusion of the study in process, it is confirmed that the way of acceding to the particularities of the spirit of the time and his expression in the city and in the life of the city it is present in the statements, which on having gone on from the description to the story, penetrate into the practices that the inhabitants realize with the spaces of his city.
___Keywords: Desire, story, citizen, city, city life, urban image.
___Resumen: La investigación urbana durante muchos años, ha centrado su interés en el estudio de los elementos físicos de la ciudad. Este trabajo se desarrolla desde un enfoque distinto al discurso de un urbanismo abstracto basado en cifras y estándares, es decir, en un urbanismo apoyado en la existencia del habitante, la ciudad, sus significados, su pertenencia y el sentido de su vida en ese territorio. El objetivo principal de este artículo es mostrar un método de trabajo basado en la identificación y el análisis de relatos urbanos y en la lectura de un texto generador de preguntas conducentes a hipótesis. La investigación en curso de la cual se desprende, utiliza dos ejercicios metodológicos particulares, uno a partir de una investigación enmarcada en la definición de "método científico", surge de la lectura de un único libro, la pregunta que guía el desarrollo del estudio. El segundo ejercicio consiste en generar una práctica a través de la aplicación de una metodología ya experimentada en trabajos precedentes, preguntándonos ahora, ¿Es posible encontrar la esencia o el deseo que motiva un acontecimiento en el relato?; como conclusión parcial del estudio en curso, se confirma que el modo de acceder a las particularidades del espíritu del tiempo y su expresión en la ciudad y en la vida de la ciudad está presente en los relatos, que al pasar de la descripción a la narración, profundizan en las prácticas que los habitantes realizan con los espacios de su ciudad.
___Palabras clave: Deseo, relato, ciudad, ciudadano, imagen urbana, vida urbana.
___Recibido enero 3 de 2014 / Aceptado marzo 12 de 2014
Licence
Copyright (c)
References
Benjamin, Walter. (1987) Infancia en Berlín, hacia 1900., Madrid. Alfaguara.

Borges, Jorge Luis. (1980) Nueva antología personal. Barcelona: Bruguera.

Buck-Morss, Susan. (1995) Dialéctica de la mirada. Madrid: La balsa de Medusa.

García Landa, José Ángel - Acción, Relato, Discurso: Estructura de la ficción narrativa Revisado el 12 de marzo de 2013 en: http://www.unizar.es/ departamentos/filologia_inglesa/ garciala/publicaciones/ard/2.Relato. html

Jacobs, Jane. (1961) The Death and Llife of Great American Cities. Nueva York: Random House.

Jacobs, Jane. (2011) Muerte y vida de las grandes ciudades. Madrid: Capitán Swing Libros.

Kristeva, Julia, (1969) Semiótica. Madrid: Espiral.

Kristeva, Julia, (1976-77) "Lo Vreal" , en Seminario "Verdad y verosimilitud del texto psicótico", París: hospital de la Ciudad Universitaria.

Kristeva, Julia. (1985) Práctica significante y modo de producción. Madrid: Aurora.

Kristeva,Julia. (1981) El texto de la novela.
Barcelona: Lumen




Le Corbusier, (1951). Plan para Bogotá.
Bogotá.

Martínez Osorio, Gilberto (2007) "Experiencia, imagen, memoria y duración". Maestría en historia y teoría del arte la arquitectura y la ciudad. Bogotá: Universidad Nacional de Colombia.

Martinez Osorio, Gilberto, Martinez Osorio, Pedro, Barguil More, Yolanda, (2005) "Serie arquitectos del Caribe Colombiano: Estudio biográfico sobre Arturo Hernández Gómez", trabajo de grado, Especialización en docencia, CECAR, Sincelejo.

Pamuk, Orhan. (2006) Estambul, ciudad y recuerdos. Bogotá: Mondadori.

Pérgolis, J.C. (2001) Estación Plaza de Bolívar. Bogotá: Alcaldía Mayor de Bogotá (elaborada en la Universidad Nacional de Colombia en 2000).

Pérgolis, J.C. y Valenzuela, (2011)J. El libro de los buses de Bogotá. Bogotá: Universidad Católica de Colombia y Universidad del Rosario.

Van Assche, Christine (2009) "El video, un espacio-tiempo contemporáneo" cita aElieDuring "Sur les franges du monde: fictions de Laurent Grasso" en Laurent Grasso, Les presses du Réel, Dijon, 2009) (Libro: 100 VideoartistasEXIT publicaciones Madrid España, p.49