Características Ocupacionales de los Soldadores en Establecimientos de Metalmecánica en Sincelejo, Colombia
Jairo Andrés Montero Pérez

Corporación Universitaria del Caribe - CECAR

Mariluz Hernández Márquez

Corporación Universitaria del Caribe - CECAR

Jhon Víctor Vidal Durango

Corporación Universitaria del Caribe - CECAR
Resumen
En Sincelejo se identificaron 144 talleres de metalmecánica que exponen a 276 soldadores a humos de metales pesados, procedentes del metal base, sus recubrimientos y el material de aporte. Se evaluó la exposición de soldadores a Cd, Cr, Cu, Fe, Mn, Ni, Pb y Zn aplicando encuestas higiénicas. Se determinó que los soldadores promedian 19,25 años de experiencia en el oficio, y fue hallada una relación entre el uso de algunos elementos de protección y el nivel de escolaridad. El proceso predominante es por arco eléctrico y el metal base más usado es el acero de bajo carbono. Se concluye que existe una situación de riesgo a la salud de los soldadores que debe ser intervenida.
Citas
Colombia. Departamento Nacional De Planeación. Documento Sectorial, Metalmecánica y Siderúrgica. El Departamento Nacional, Bogotá D.C., 2007, p. 11.
Messler, Robert W. Elastic Integral Mechanical Attachments or Interlocks en Integral Mechanical Attachment. A Resurgence of the Oldest Method of Joining. 2006. p 103–142. doi: http:// dx.doi.org/10.1016/B978-075067965- 7/50022-5
Cortés, J. M. Seguridad e Higiene en el Trabajo: Técnicas de Prevención de riesgos laborales, 9ª Ed. Madrid: Editorial Tébar. 2007.p. 507. ISBN: 978-84-7360-255-6.
Rubio, J. C. Manual de coordinación de seguridad y salud en las obras de construcción. Madrid: Díaz de los Santos, 2005. p 463
Lietze, D. Safety devices for gas welding, cutting and allied processes. Journal of Loss Prevention in the Process Industries, Vol. 8, Cap. 6. p. 319-324, 1995. doi:10.1016/0950-
(95)00034-8
Organización Internacional Del Trabajo - OIT. Enciclopedia de salud y seguridad en el trabajo. Industrias Manufactureras: Metalurgia y metalistería. 4ª Ed, Vol. 3, Cap. 82. Suiza, 1998. ISBN 8474349753.
Tibbetts, J. Under Construction: Building a Safer. Environ Health Perspect 110:a134-a141, 2003. doi:10.1289/ehp.110-a134]
Siemiatycki, J., Richardson, L., Straif, K., Latreille, B., Lakhani, R., Campbell, S., Rousseau, M–C., BoVetta, P. Listing Occupational Carcinogens. Environ Health Perspect 112:1447-1459, 2004. doi:10.1289/ehp.7047]
ATSDR (agency for toxic substances and disease registry). Drah toxicological profile for chromium, 2000.
Aboud AA, Tidball AM, Kumar KK, Neely MD, Ess KC, Erikson KM y Bowman A. Genetic risk for Parkinson's disease correlates with alterations in neuronal manganese sensitivity between two human subjects. NeuroToxicology, Vol. 33, cap. 6, p. 1443–1449, 2012. doi: http://dx.doi.org/ 10.1016/j. neuro.2012.10.009]
Brand P, Gube M, Gerards K, Bertram J, Kaminski H, John AC. Internal exposure, eVect monitoring and lung function in welders aher acute short term exposure to welding fumes from diVerent welding processes. J Occupation and Environmental Medicine, 2010, 52, 887-92. doi: J Occup Environ Med.;52(9):887-92.].
Brown T, Darnton A, Fortunato L, et al. Occupational cancer in Britain: Respiratory cancer sites: larynx, lung and mesothelioma (link is external). Br J Cancer 2012; 107(S1):S56-S70.
Kim, J.Y; Chen, J-C, Boyce, P.D y Christiani, D.C. Exposure to welding fumes is associated with acute systemic inflammatory responses. Occup Environ Med 2005; 62:157-163. doi:10.1136/oem.2004.014795
Danadevi, K.; Rozati, R.; Reddy, P.P, Grover P. Semen quality of Indian welders occupationally exposed to nickel and chromium. Reproductive Toxicology, Vol. 17, Cap. 4, 2003, p. 451–456. Recuperado de http://dx.doi. org/10.1016/S0890-6238(03)00040-6
Bados, N.P.; García, M.; Jaramillo, L.D.; Tafurt, Y.; Hoyos, L.E. Y Carvajal, S. Efecto genotóxico por la exposición ocupacional en soldadura "soldadores", evaluado mediante la prueba de alteraciones Cromosómicas (ac), en la ciudad de Popayán, Nariño. Facultad de Ciencias Naturales, Exactas y de la Educación, Departamento de Biología, Grupo de Investigación en Toxicología Genética y Citogenética, Universidad del Cauca. Popayán, Colombia. [Ca] – 2006.
Montero, J; Hernández, M. y Vidal, J.. Base de Datos [CD-R], Censo Talleres de soldadura en la ciudad de Sincelejo. 2012.
Turkez, H., Geyikoglu, F., Tatar, A., Keles, MS.y Kaplan,I. The eVects of some boron compounds against heavy metal toxicity in human blood. Experimental and Toxicologic Pathology, 2010.
Bernard, A. Renal and Neurological EVects Heavy Metals in the Environment. Encyclopedia of Environmental Health: 2011, 801-805.
Lu, L., Zhang, L-L., Li, G., Guo, W., Liang, W. y Zheng, W. Alteration of serum concentrations of manganese, iron, ferritin, and transferrin receptor following exposure to welding fumes among career welders. Department of Occupational Diseases Control and Prevention, Fengtai Center for Disease Control and Prevention, Beijing 100071, PR China. NeuroToxicology (Impact Factor: 2.65). 2005; 26(2):257-65. doi:10.1016/j.neuro.2004.09.001
Cárdenas-Bustamante O., Varona- Uribe, M.E, Núñez-Trujillo, S.M., Ortiz- Varón, J.E., Peña-Parra, G. Correlación de protoporfirina zinc y plomo en sangre en trabajadores de fábricas de baterías de Bogotá, Colombia. Salud Pública Mex. 2001;43(3):203-210
Ellingsen, D., Kusraeva, Z., Bast- Pettersen, R., Zibarev, E., Chashchin, M., Thomassen, Y. y Chashchin, V. The interaction between manganese exposure and alcohol on neurobehavioral outcomes in welders. NeurotoxicologyandTeratology, http://dx.doi.org/10.1016/j.ntt.2013.11.004
Chang, Y., Jin, S-U., Kim, Y., Shin, K., Lee, H., Kim, S., Ahn, J., Park, S-J., Jeong, K., Weon, Y., y Lee, H. Decreased brain volumes in manganese-exposed welders. NeuroToxicology, Volume 37, Pages 182–189, 2013.doi: http://dx.doi. org/10.1016/ j.neuro.2013.05.003
OSHA. Controlling Hazardous Fume and Gases during Welding. En: Osha® FactSheet, 2013. Recuperado de www.osha.gov.
Texas Department Of Insurance (TDI). Programa de Seguridad sobre los Peligros de la Soldadura. 2007. Recuperado de www.tdi. texas.gov/pubs/videoresourcessp/ spwpweldhazards.pdf
Erdal, S. And Berman, L. Occupational exposure environment, risk factors, and hazard awareness of metal sculptors and artist welders in the U.S. Volume: 5 Issue:1. Division of Environmental and Occupational Health Sciences, School of Public Health, University of Illinois. Chicago,USA, 2006. Recuperado de: http://www.cieh.org/jehr
Cona Guzman, J. M. Ensayos destructivos y no destructivos de probetas de acero soldadas con electrodos revestidos. Tesis Para Optar Al Título De Ingeniero Naval Con Mención En Construcción Naval. Universidad Austral de Chile. Facultad de ciencias de la ingeniería. Valdivia: Chile, 2005. Recuperado de http:// cybertesis.uach.cl/tesis/uach/2005/ bmfcic744e/doc/ bmfcic744e.pdf
Noel, Nancy E. y Ruthman, John C. Elevated serum zinc levels in metal fume fever. The American Journal of Emergency Medicine, Vol. 6, Cap. 6, 1988. p. 609–610. doi: http://dx.doi. org/10.1016/0735-6757(88)90103-9]
Wong, A., Marrie, T., Garg, S., Kellner, J., Tyrrell, G. Welders are at increased risk for invasive pneumococcal disease. International Journal of Infectious Diseases, Vol. 14, cap. 9, 2010, p. e796– e799. doi: http://dx.doi.org/10.1016/j. ijid.2010.02.2268]
Benigni R, Bossa C, Battistelli CL, Tcheremenskaia O. IARC: Classes 1 and 2 carcinogens are successfully identified by an alternative strategy that detects DNA-reactivity and cell transformation ability of chemicals. Mutation Research/Genetic Toxicology and Environmental Mutagenesis, 2013. 758(1-2):56-61. doi: http://dx.doi.org/10.1016/j.mrgentox.2013.09.006].
Kirkwood, P.R., Prosser, k., Boothby, P.J. The properties of pipeline girth welds produced by arc welding processes. Welding in Energy-Related Projects, 1984. p. 359–377. doi: http://dx.doi.org/10.1016/B978-0-08- 025412-8.50040-1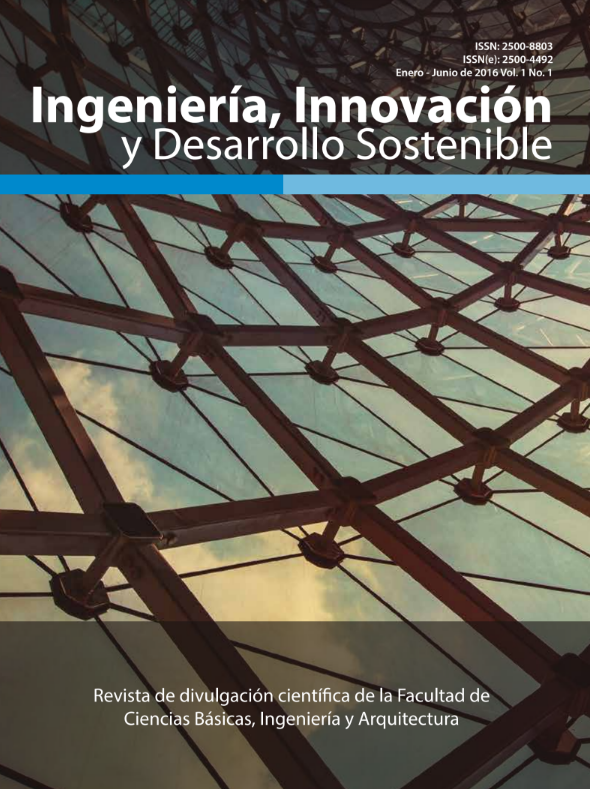 Derechos de autor 2016 Ingenieria, Innovación y Desarrollo Sostenible
Esta obra está bajo licencia internacional
Creative Commons Reconocimiento-NoComercial-CompartirIgual 4.0
.
Revista Búsqueda
está distribuido bajo una
Licencia Creative Commons Atribución-CompartirIgual 4.0 Internacional
.
Basada en una obra en
http://revistas.cecar.edu.co/ingenieria
.